✓ No Booking Fees  ✓ No Prepayment  ✓ Special Offers  ✓ Great Customer Service

THE ABSOLUTE BEST DISCOUNT CAR RENTALS IN HAWAII
Hit the road with confidence and savings on your next adventure! Our car rental service was designed to make renting a breeze while keeping your wallet happy. Offering a diverse fleet of minivan rentals, SUV rentals,  Jeeps and cars in the stunning locations of Maui, Oahu, Kauai, as well as Kona and Hilo on The Big Island of Hawaii, we have you covered with our HNL car rentals. Don't wait any longer – seize the day and book a car rental at the Kona or Oahu Airport for your dream ride to experience the best of Hawaii's breathtaking beauty at your own pace. Embrace the Aloha spirit and let the journey begin!
Risk-Free Booking: Book confidently, knowing you can pay at the rental counter for maximum flexibility. Enjoy peace of mind with our one-click free cancellation, making your planning worry-free.
Competitive Rates: We strive to deliver the lowest discount car rental rates available. Our negotiated rates are through trusted providers, ensuring you get the best value for your money.
Variety of Vehicles: Choose from Economy, Mid-Size, Convertible, Mini-Van, or SUV for your visit to the Islands.
Streamlined Payment Process: Pay when you return your rental, not today! We've streamlined the process for a hassle-free experience.

We know you want the best rates — or just an available vehicle — don't wait until the last minute to book your discount car rental in Maui, Hawaii. Let's pitch in to help Maui recover. Get the latest information on relief efforts for those impacted by the recent Maui wildfires and for those who want to lend their support.
It's no longer wise to book transportation as an afterthought once you've booked airline and hotel reservations. We recommend securing a vehicle and checking the rates on our website again before your travels to see if your dates' rates drop. In that case, we recommend booking the lower-priced option and canceling your original rental. If you need to cancel a reservation, you can do so without incurring any fees.
Whether you're looking for a Jeep rental, or Mustang convertible rental, our website offers a wide selection to meet your needs. Plan ahead and book your auto rental for the best availability and low prices. Explore the stunning landscapes of Hawaii, from the vibrant city of Honolulu. Our reliable options ensure convenient transportation throughout your trip. Don't forget to discover the natural wonders of the Big Island with our service. Secure your vehicle today and enjoy peace of mind during your Hawaiian adventure.
As previously mentioned, making car rental reservations in advance is a wise choice, but it's not always necessary. For the most economical deals, renting a vehicle before embarking on your journey is generally advisable. Furthermore, we cater to short-term and extended car rentals. Allow us to furnish you with a first-rate automobile at an affordable price for your upcoming excursion to the Hawaiian archipelago.
Car Rental Rate Comparison
Comparing rental rates can provide several benefits when you need a car rental. By comparing rates from multiple rental car companies, you can find the best deal and save money, which is especially advantageous if you're on a tight budget. Additionally, rate comparison can help you identify rental car companies with the most convenient locations and the best selection of vehicles. By comparing rates and features, you can make an informed decision when selecting one of our rental car partners and feel confident that you are getting the best value for your money. Therefore, rate comparison is a smart strategy that you can use to ensure that you secure the most cost-effective rental car and enjoy your tropical travel experience to the fullest.

About the Process
If you encounter any issues with your car or need additional information, our customer service reps are available 7 days a week. Our website is a valuable tool for visitors who prefer to book their transportation independently. At the same time, our team is ready to assist those new to our site, Hawaii, or both, in securing the ideal vehicle for your trip.
Discount Car Rentals
Our approach is to provide individualized service while finding the best deals on your upcoming Hawaiian vacation. We provide a variety of methods for finding your Hawaii car rental. For example, you can research the best automobile type for your needs on each island.
Believe it or not, road-tripping in Hawaiʻi is a thing! It just rarely involves being behind the wheel for more than a hundred miles. Seek out the Hawai'i road trips less traveled and you could find yourself cruising stunning coastlines or pulling into the overlooks of breathtaking valleys, waterfalls and canyons.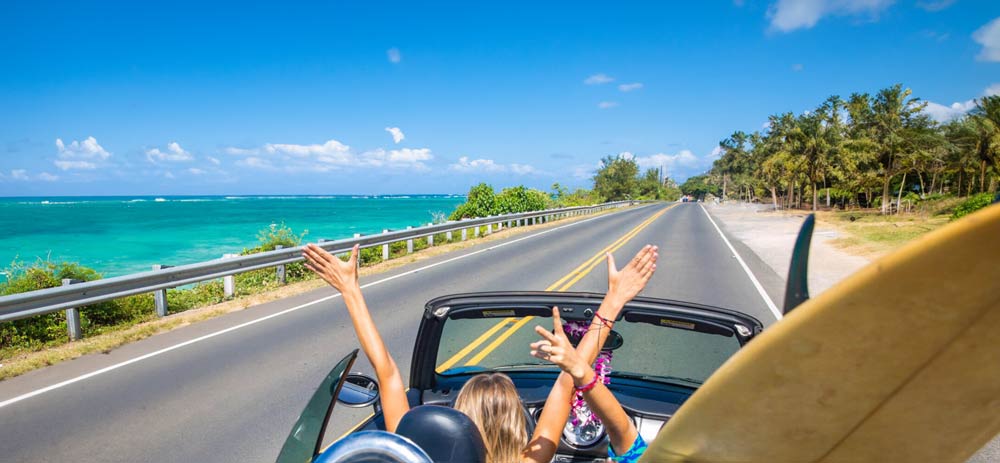 Rental Car Types and Categories
A wide array of HNL rental car options awaits you at Aloha Rents. Book a vehicle at any Hawaii airport, ranging from economy and luxury vehicles to Jeeps and SUVs. As you decide on the ideal category for your Hawaii car rental, remember your unique requirements, such as the number of passengers and the amount of luggage space needed. Arrive in true island fashion, just like a local. We provide an extensive selection of cars, minivan rental, Suv rental, as well as Jeeps & convertibles encompassing various makes and models.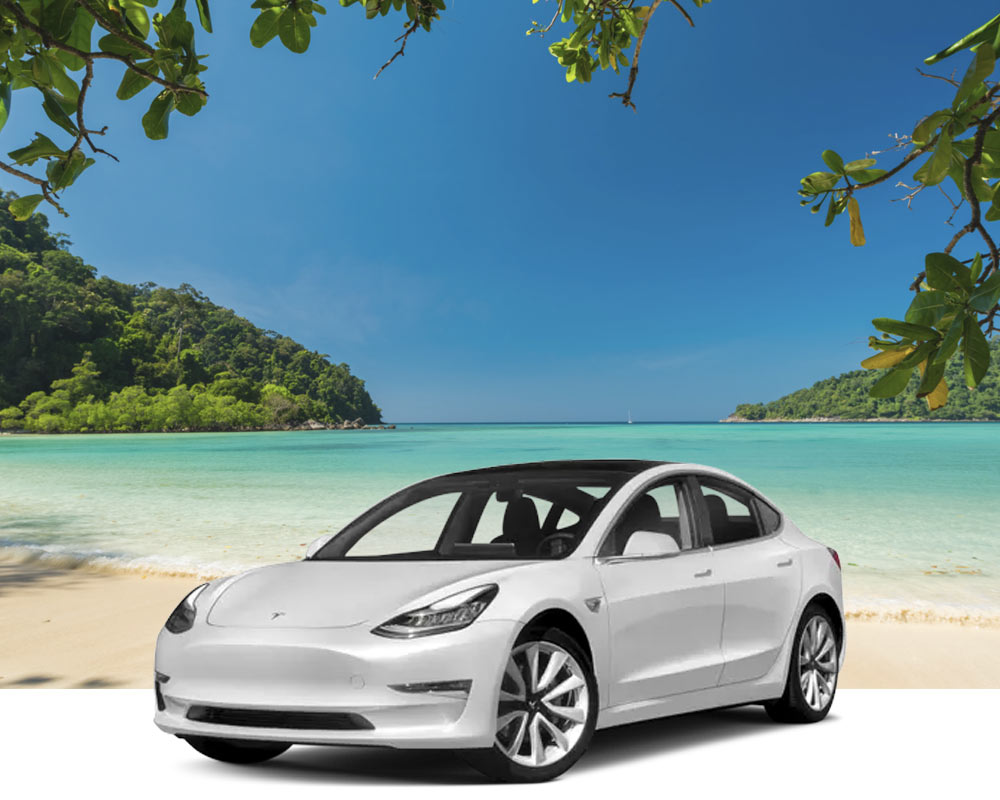 Environmental Considerations and Eco-Friendly Rental Options
At Aloha Rents, we understand the importance of reducing our environmental impact. That's why we offer a range of eco-friendly options, including hybrid and electric vehicle rentals. So, if you want to make your Hawaiian adventure a little greener, consider choosing one of these sustainable rental options and do your part to minimize your carbon footprint as you explore the beautiful islands.
Payment Methods and Deposit
Our rental car suppliers generally accept credit cards or debit cards with a Visa or MasterCard logo as the primary payment method. Be prepared to provide a valid payment card when picking up your rental car.
Cancellation and Modification Policy
It's essential to understand the cancellation and modification policy for your vehicle rental in Hawaii. Policies may vary with other vendors, but you can always cancel a reservation without incurring fees with Aloha Rents.
Tips for Driving in Hawaii
Finally, to make the most of your car rental in Hawaii, keep these tips in mind while exploring the islands:
Plan your route ahead of time to ensure you have ample time to enjoy Hawaii's natural beauty and avoid getting lost.
Please familiarize yourself with local speed limits and obey them. Remember, driving in Hawaii is generally more leisurely than in other parts of the United States.
Be prepared for sudden weather changes, especially when driving near the coast or through mountainous areas.
Don't leave valuables visible in your parked car to prevent theft. Instead, store them in the trunk or take them with you.
Pay attention to road signs and be cautious when driving on unfamiliar roads or near tourist attractions where pedestrians may be crossing.
By considering all these factors, you'll be well-prepared for an enjoyable car rental experience in Hawaii. Embrace the Aloha spirit, hit the road, and explore the stunning landscapes, beautiful beaches, and cultural attractions that make Hawaii such a unique and unforgettable destination.

Airport Rental Cars in Hawaii
The majority of our clients choose an airport for their car rental. Airport locations are convenient and often have the widest selection of vehicles. Occasionally, off-airport car rentals located in town or at a resort are better suited, especially if the rental is a spur-of-the-moment choice. Most islands have multiple off-airport locations.
Hawaii Car Rentals by Island
Each island in Hawaii is unique. For travelers who plan to visit for more than a week, island-hopping is a fun way to see multiple islands in one trip. Hawaiian Air provides transportation between islands, and booking with them is recommended. In addition, individual car rentals at each island's airport offer the most effortless transition from airplane to lodging.