Compact : Dodge Caliber
<< Back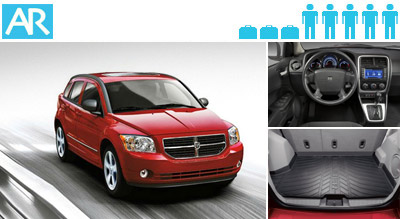 Rental Car Fleet Examples
The Dodge Caliber is considered a Compact rental. Although, there is ample room for 5 people and lots of space in the gracious trunk (great for luggage). The front passenger dash actually has a cold beverage storage area. Every one of our vehicles, including this compact car, have air-conditioning.
Automatic transmission, power steering, windows and brakes, 4 doors, A/C, AM/FM stereo and CD player.
Reserve now and lock-in our discounted rates.
Reserve