Convertible : Chrysler Sebring
<< Back

Rental Car Fleet Examples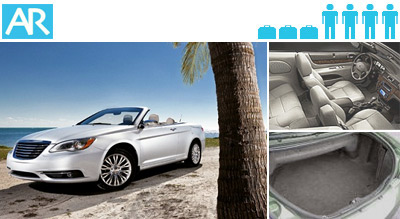 This is the sleek Chrysler Sebring convertible. A 2-door with room for 4 adults or a combination of children and adults. The interior is well designed and extremely functional.
The average mileage for this Sebring is 23 MPG. This is a five speed, automatic transmission, cruise control, tilt wheel, power steering, windows and brakes, A/C, AM/FM stereo and a CD player.
This is a fun vehicle to have on your vacation. Pop the top down and enjoy a drive around your island destination. All of our cars include unlimited mileage.
Check rental rates now and lock-in our discounted prices.