✓No Booking Fees   ✓No Prepayment   ✓No Cancellation Penalties   ✓Special Offers   ✓Great Customer Service

Enjoy RISK-FREE booking | Pay at the Counter for Maximum Flexibility | Easy to Reserve a Car in Less than 2 Minutes
Our car rental service was originally launched to simplify the rental process while saving you money too. With Jeeps and cars in Maui, Oahu, Kauai, Molokai in addition to Kona and Hilo on The Big Island of Hawaii.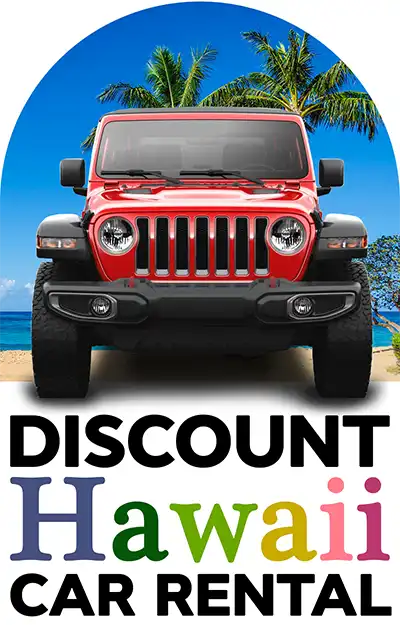 We know you want the best rates — or just an available vehicle — don't wait until the last minute to book your discount auto rental. It's not wise to book transportation as an afterthought once you've booked airline and hotel reservations. We recommend securing a vehicle and checking our website before your travels to see if the rate drops for your dates. In that case, we recommend booking the lower-priced option and canceling your original rental. If you need to cancel a reservation, you can do so without incurring any fees.
It's a wise choice to make rental reservations in advance, but it's not obligatory. For the most economical deals, it's generally advisable to rent a vehicle between 1-3 months before embarking on your journey. Furthermore, we cater to immediate as well as extended car rentals. Allow us to furnish you with a first-rate automobile at an affordable price for your upcoming excursion to the Hawaiian archipelago.
Car Rental Rate Comparison
Comparing rental rates can provide several benefits when you need a rental car. By comparing rates from multiple rental car companies, you can find the best deal and save money, which is especially advantageous if you're on a tight budget. Additionally, rate comparison can help you identify rental car companies with the most convenient locations and the best selection of vehicles. By taking the time to compare rates and features, you can make an informed decision when selecting one of our rental car partners and feel confident that you are getting the best value for your money. Therefore, car rental rate comparison is a smart strategy that you can use to ensure that you secure the most cost-effective rental car and enjoy your tropical travel experience to the fullest.

About the Process
If you encounter any issues with your car rental or need rental information, our customer service reps are available 7 days a week. Our website is a useful tool for visitors who prefer to book their transportation independently, while our team is ready to assist those new to our site, Hawaii, or both, in securing the ideal rental car for their trip.
Discounted Car Rentals
Our approach is to provide individualized service while finding the best deals on your upcoming Hawaiian vacation. We offer a range of approaches to help you locate your rental car. One option is to peruse our reviews and identify the ideal type of vehicle for your requirements on each island. Alternatively, you could evaluate the car rental facilities available at the airport where you'll be arriving to find the most suitable rental for your needs. Rest assured, we have several methods in place to assist you in securing the perfect rental car for your upcoming trip. We provide a variety of methods for finding your rental car.
Did you know that road-tripping in Hawaii is a popular activity? Contrary to popular belief, it typically doesn't require driving for extended periods of time. By exploring less frequented routes in Hawaii, you can enjoy picturesque drives along the coastline and stop to admire the stunning scenery at overlooks showcasing valleys, waterfalls, and canyons.
Airport Rental Cars in Hawaii
The majority of our clients choose an airport for their car rental. Airport locations are convenient and often have the widest selection of vehicles. Although occasionally, off-airport car rentals located in town or at a resort are better suited, especially if the rental is a spur-of-the-moment choice. Most islands have multiple off-airport locations.
Hawaii Car Rentals by Island
Each island in Hawaii is unique. For travelers who plan to visit for more than a week, island-hopping is a fun way to see multiple islands in one trip. Hawaiian Air provides transportation between islands, and booking with them is recommended. In addition, individual car rentals at each island's airport offer the most effortless transition from airplane to lodging and on to enjoy the sights.