Renting a Car in Hawaii has never been this Easy
Welcome to Aloha Rents, your go-to source for affordable and reliable car rentals in Hawaii! Hawaii is a beautiful destination; renting a car is essential to fully explore and experience the islands' natural beauty. We are committed to providing you with the best car rental experience possible.
Ready to Book? At Aloha Rents, we make reserving your dream car for your Hawaiian adventure a breeze. Choose from our wide selection and book in just a few clicks!
Compare and Save: Not sure about the best deal? Compare our competitive prices with other providers and see the value we offer.
Convenient Locations: Whether you're landing in Honolulu or exploring the Big Island, we use rental locations strategically located for your convenience.
Check Our Fleet: From spacious SUVs to sleek convertibles, check the availability of our diverse fleet for your travel dates.
Hear from Our Happy Travelers: Don't just take our word for it. Read reviews from our satisfied customers and know you're making the right choice with Aloha Rents.
Clear and Fair Policies: We believe in transparency. Please get familiar with our age, insurance, and (no-penalty) cancellation policies to ensure a hassle-free experience.
Special Deals Just For You: Looking for the best value? Check out our special offers and discounts tailored for your Hawaiian journey.
Driving in Paradise: Stay safe and enjoy the ride with our essential driving tips for Hawaii. From local traffic rules to recommended routes, we've got you covered.
Extended Stays? No Problem: Take advantage of our long-term rental options if Hawaii captivates you a little longer. At AlohaRents.com, we're more than just a car rental service; we're your partner in making your Hawaiian journey unforgettable. Book with us today and say "Aloha" to the trip of a lifetime!
We make renting a car easy and stress-free. You can compare rates on our website up until the day of your trip, and we don't charge any fees for reservations, prepayments, or cancellations. In addition, our partnership with major car rental companies guarantees high-quality service and support from our knowledgeable staff.
Customer service is our top priority
We assist you in choosing the best car rental options for Kauai and beyond for your trip and offer continuous support throughout your journey. If you encounter any issues during your trip, we are always available to help.
We take pride in offering competitive prices and discounts from major car rental companies. We also provide complimentary extras, such as additional drivers and reduced rates for young drivers, saving you money at the rental counter. With our assistance, you can secure your car rental in Hawaii whether you plan a short or extended stay. Let us help you save money on a car rental so you can allocate your budget elsewhere.
Don't wait any longer to explore the islands of Hawaii. Book your car rental with Aloha Rents today and experience the beauty of Hawaii with the freedom and convenience of your own car!
The Aloha State
The Hawaiian islands occupy 6423.4 square miles of land within the Pacific Ocean, far from other land masses. These islands are so remote that they possess a time zone of their own: Hawaiian Standard Time. To further illustrate their remoteness, they lie 2390 miles from the United States and 3850 miles from Japan. Hawaii became the 50th state of the United States in 1959.
Evidence shows that Polynesians inhabited the islands between approximately 124 and 1120 AD. However, following this period, minimal physical history survived. Only historical legends remain of migration from the southern islands of ancient Polynesia. The islands were once a monarchy. Seven kings and one queen individually ruled the islands.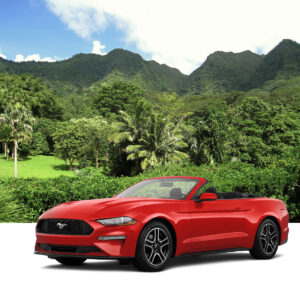 In 1778 British explorer James Cook headed an expedition in the Pacific that is likely to have been the first European group to reach the Hawaiian Islands. However, this is disputed by those who believe that the Spanish captain, Ruy López de Villalobos, was the first European to arrive in the island chain in 1542.
The Hawaiian Islands comprise 137 islands; however, some are barely larger than rocks. As a result, only eight are well-recognized, and 6 are popular tourist destinations. Each developed island is unique for its climate, geography, and those attractions that take advantage of these island features. For example, Mount Waialeale, in the center of Kaua'i, receives more than 450″ of rain annually, so hiking in rain gear to see magnificent waterfalls is a special treat here. Cactus thrive on Maui. They are easily recognized on a drive along the slopes to Haleakala National Park, where the landscape is moonscape-barren. Farmers' Markets on each island showcase the bounty of rich, volcanic soil. Look for avocados, guavas, vanilla, macadamia nuts, coffee, pineapples, and bouquets of tiny orchids among the vendors' booths.
Weatherwise, it's always pleasant in the Hawaiian Islands! The state of Hawaii is a tropical paradise. Daytime temperatures generally range from 75º-90ºF year-round and 70º-80ºF degrees at night. Occasionally, nighttime winter temperatures dip toward 50ºF. And temperatures in all higher regions of the islands will be chillier.
Hawaii Car Rentals by Island
Each island in Hawaii is unique. For travelers who plan to visit for more than a week, island-hopping is a fun way to see multiple islands in one trip. Hawaiian Air provides transportation between islands, and booking with them is recommended. In addition, individual car rentals at each island's airport offer the most effortless transition from airplane to lodging and on to enjoy the sights.
Airport Rental Cars in Hawaii
The majority of our clients choose an airport for their car rental. Airport locations are convenient and often have the widest selection of vehicles. Occasionally, off-airport car rentals located in town or at a resort are better suited, especially if the rental is a spur-of-the-moment choice. Most islands have multiple off-airport locations.