The Aloha State
The Hawaiian islands occupy 6423.4 square miles of land within the Pacific Ocean, far from other land masses. These islands are so remote that they possess a time zone of their own: Hawaiian Standard Time. To further illustrate their remoteness, they lie 2390 miles from the United States and 3850 miles from Japan. Hawaii became the 50th state of the United States in 1959.
Historically, evidence shows that Polynesians inhabited the islands between approximately 124 and 1120 AD. However, following this period, minimal physical history survived. Only historical legends remain of migration from the southern islands of ancient Polynesia. The islands were once a monarchy. Seven kings and one queen individually ruled the islands.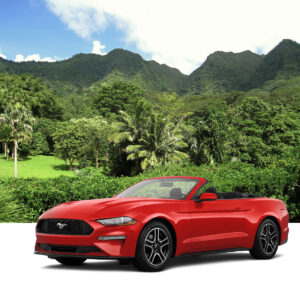 In 1778 British explorer James Cook headed an expedition in the Pacific that is likely to have been the first European group to reach the Hawaiian Islands. However, this is disputed by those who believe that the Spanish captain, Ruy López de Villalobos, was the first European to arrive in the island chain in 1542.
The Hawaiian Islands comprise 137 islands; however, some are barely larger than rocks. As a result, only eight are well-recognized, and 6 are popular tourist destinations. Each developed island is unique for its climate, geography, and those attractions that take advantage of these island features. For example, Mount Waialeale, in the center of Kaua'i, receives more than 450″ of rain annually, so hiking in rain gear to see magnificent waterfalls is a special treat here. Cactus thrive on Maui. They are easily recognized on a drive along the slopes to Haleakala National Park, where the landscape is moonscape-barren. Farmers' Markets on each island showcase the bounty of rich, volcanic soil. Look for avocados, guavas, vanilla, macadamia nuts, coffee, pineapples, and bouquets of tiny orchids among the vendors' booths.
Weatherwise, it's always pleasant in the Hawaiian Islands! The state of Hawaii is a tropical paradise. Daytime temperatures generally range from 75º-90ºF year-round and 70º-80ºF degrees at night. Occasionally, winter nighttime temperatures dip toward 50ºF. And temperatures in all higher regions of the islands will be chillier.
Hawaii Car Rentals by Island
Each island in Hawaii is unique. For travelers who plan to visit for more than a week, island-hopping is a fun way to see multiple islands in one trip. Hawaiian Air provides transportation between islands, and booking with them is recommended. In addition, individual car rentals at each island's airport offer the most effortless transition from airplane to lodging and on to enjoy the sights.
Airport Rental Cars in Hawaii
The majority of our clients choose an airport for their car rental. Airport locations are convenient and often have the widest selection of vehicles. Although occasionally, off-airport car rentals located in town or at a resort are better suited, especially if the rental is a spur-of-the-moment choice. Most islands have multiple off-airport locations.