Aloha! Welcome to Aloha Rents Cars in Hawaii. As the owner, I'm delighted to welcome you to our ohana (family). My journey began in the arts, creating 3D sculptures. Life's twists led me to web design and the birth of Aloha Rents Cars in 2005.
Our mission from the start has been to offer unbeatable rates for an immersive Hawaiian experience. This dedication has made us a proud member of the Hawaii Visitors & Convention Bureau (HVCB) since 2009. (learn more)
With over 20 years in the car rental business, we specialize in providing discounted rates at various Hawaiian airports. Whether your destination is Oahu, Honolulu, Maui, Kauai and the Big Island, we have the ideal rental for you.
While we don't offer flight or resort packages, our expertise lies in providing top-tier car rental deals. Our goal is to ensure a seamless journey for you.
Become a part of our ohana at Aloha Rents Cars, and start an unforgettable Hawaiian adventure. Experience our exceptional service and unbeatable rates by booking with us today. Mahalo!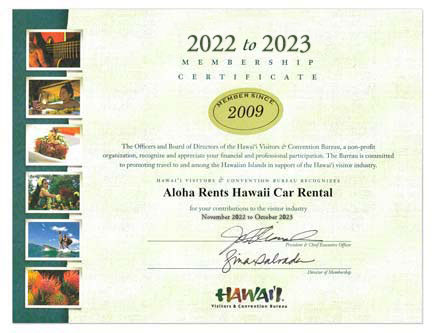 The smaller, more unique lodgings in Hawaii (our personal preference) don't usually offer packages either. We donate to local organizations in Hawaii, such as the Mālama Maui Nui an arm of Keep America Beautiful. Yet, we don't run expensive advertising campaigns to get your attention. We figure we don't need to amuse you to win your trust. We simply provide unbeatable prices on rental cars in Hawaii.
We initially offered cars for rent from only two car companies. We were a tiny company with cheap rates. As our web presence grew, other companies asked us to join their fixed-rate programs. Now, our customers happily reap the benefits as these companies engage in multiple price wars for our steady flow of customers. In addition to discounting their prices, these companies have also individually rearranged their seasons and offered enticing customer perks so that we typically provide the lowest online deals available.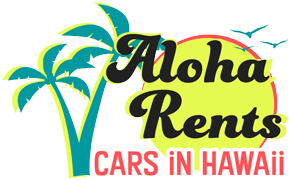 We expect you already know our companies (Alamo, Thrifty, Dollar, Payless, Enterprise, Avis, Hertz, Budget). Today, we count on the loyalty of our repeat customers and their word-of-mouth advertising to help us maintain low rates with our partners.
So, if you are new to our site or one of our many repeat visitors– Welcome! We assume you have visited our website because you are budget-minded. Therefore, it is our sincere pleasure to send you off today with the rental car of your choice at the best price offered online. Your carriage awaits. Get a car rental today!
Why we rent cars and nothing else?