Car Rentals on Molokai
WHAT YOU MIGHT EXPECT ON MOLOKAI, HAWAII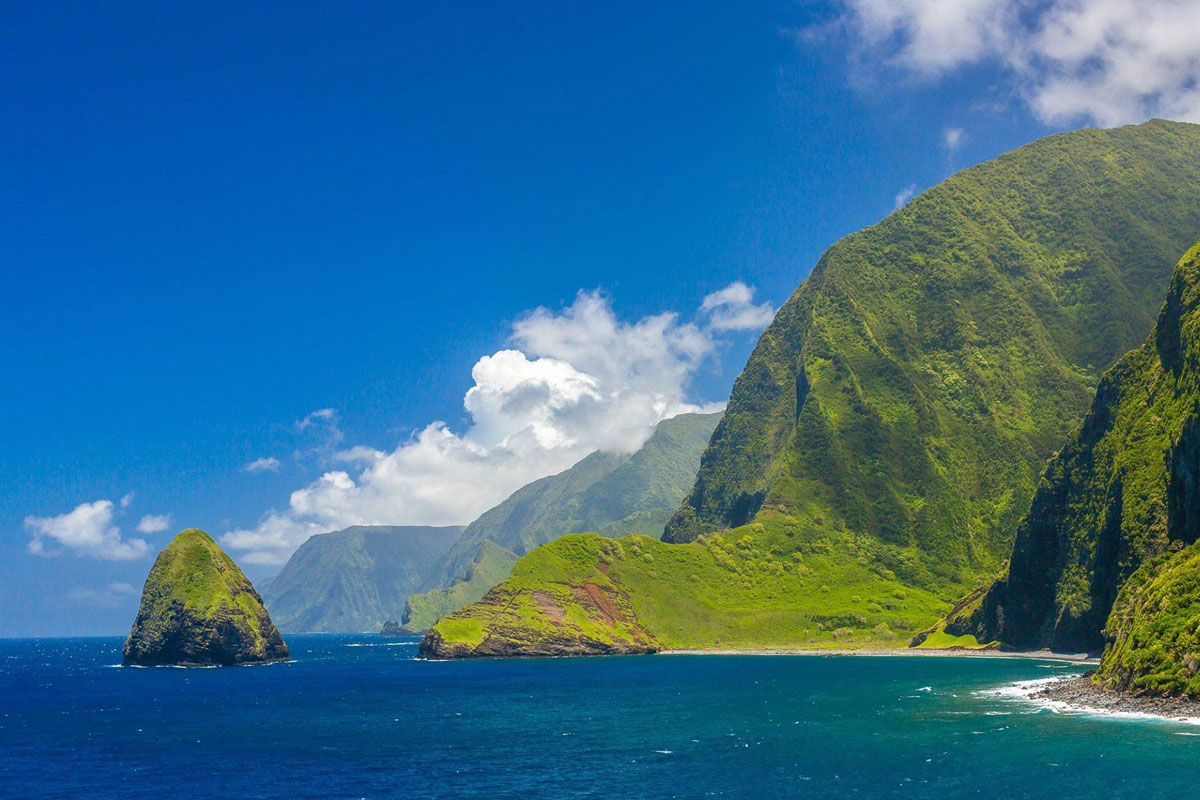 Molokai is an island of complexities. It has many natural attractions– unbelievably tall sea cliffs, a long stretch of coral reef, beautiful white sand beaches, and spectacular, varied terrain that changes with each curve in the road. It is also home to interesting small family-owned businesses and farms. However, history has been cruel to the native population. Today's local wants to avoid hoards of tourists and big conglomerates polluting their homeland. Instead, the tourists that the island wishes to attract are those who come respectfully with curiosity for Molokai history and an interest in how it survives today.
Would you prefer volunteering in the spectacular scenery of a park, with free lodging, to sitting among shiny crowds of sun-worshipers? If so, this is the place of your dreams. Volunteer opportunities on Molokai are a click away. And, if you prefer to relax, the island is perfect for that. Tourist-centric shops are nonexistent. Lodging is limited. Roads are for exploring. Your footprints may be the only ones you see on a Molokai beach. Locals operate most tours. The best ones are rougher and don't adhere to strict start and end times, but visitors will experience a rare, personal glimpse of this island's culture. For example, if you're curious about how macadamia nuts and tropical flowers are grown, guided tours are available that include visitor participation.
The most exciting event on the island happens in the evening– The Hot Bread Run. The nearly century-old Kanemitsu Bakery in Kaunakakai, owned by its founding family, bakes an incredible sweet loaf of filled bread that is too good to explain. To get to the hot spot, park out front on Ala Malama Street and walk to your right along the alley. From there, head to the second alley (your nose will lead the way) and choose your evening indulgence.
SCHEDULE YOUR MOLOKAI CAR RENTAL IN ADVANCE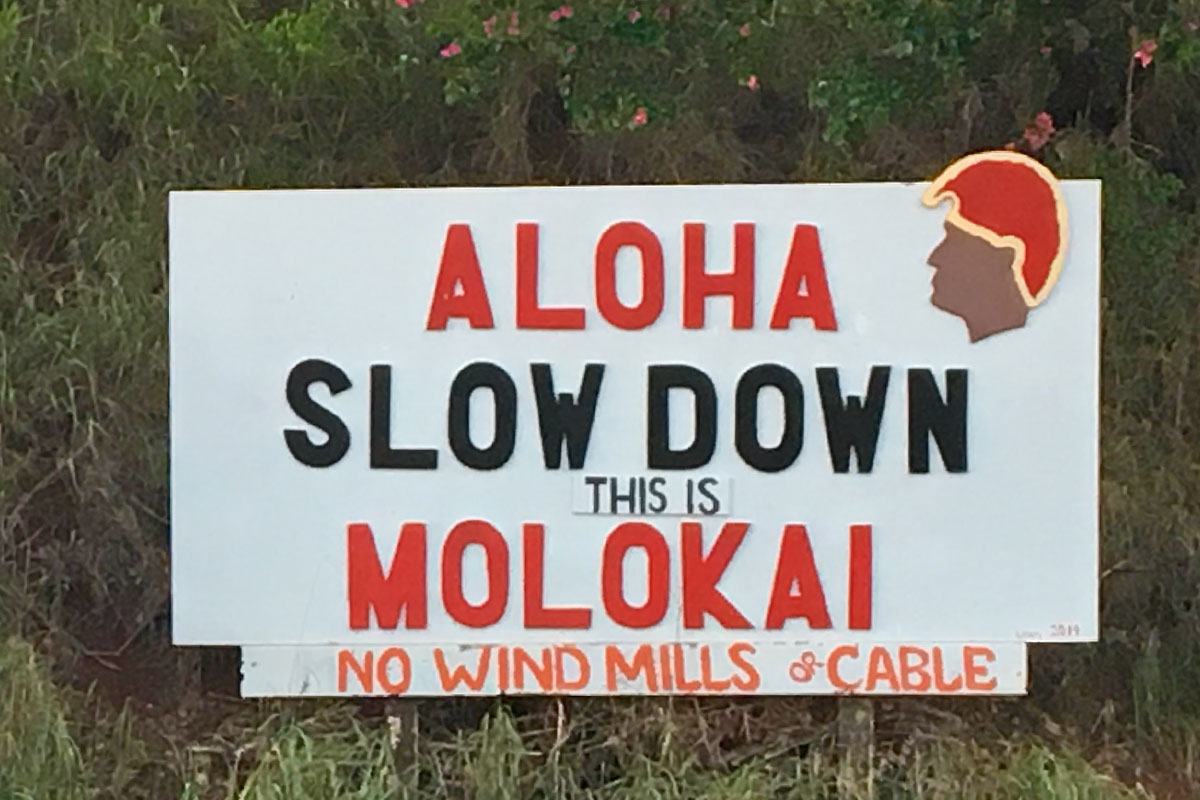 As you've just read, a visit to Molokai is an extraordinary experience. And a rental car is required to appreciate the island's diverse climate zones and take in the beauty of this rural setting. So we encourage visitors to pick up their reserved vehicle (yes, reserve ahead because rentals are in short supply) at the airport when they arrive. Alamo Rent A Car is the single rental car company on the island, and vehicle options may be limited.
Driving on Molokai is relaxing because there is no traffic. The top speed limit on the island is 45 MPH (72.42 kph). A drive around the island takes about three hours and covers approximately 72 miles. And, while Molokai has only one rental company and vehicles can be in short supply, visitors have ample car (small, mid, and full-size) and truck options with booked reservations. So reserve as soon as possible after booking airfare to get that car, Jeep, or minivan you want. Reservations through AlohaRents.com are easily updated or canceled. Credit card information will not be necessary for reservations. Payment takes place at the rental desk on Molokai.
Be sure to enjoy all that the island offers. Use your rental car to get around but do get out too, to greet locals, savor the scenery, hike, take a tour, and immerse yourself in a land that no commercial venture has been able to alter permanently.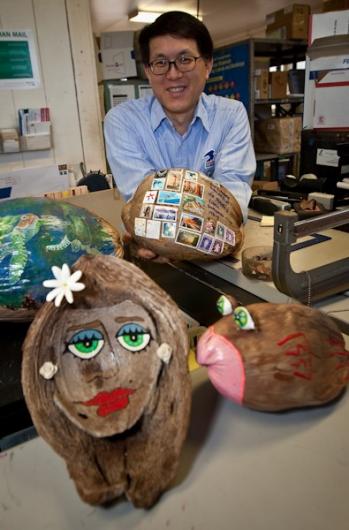 Molokai divides itself into three distinct areas. The fishing village of Kaunakakai is the center of what is called the central region. Molokai Airport (MKK) is about 7 miles northwest of Kaunakakai. Most lodging, dining, and shopping are in this area. The longest continuous fringing reef in the United States is here. At the west end is a world of remote beaches– more than a dozen. The beaches have few amenities, so plan to bring water shoes, reef-safe sunscreen, drinking water, snacks, or a picnic. And, amid all the beaches in the west end is Papuhaku Beach Park, a long, primarily secluded beach. It's family-friendly, with bathroom and shower facilities and barbecues for picnicking.
Finally, there is the lush, green east end. Halawa Valley Falls is a treasure for tourists who wish to immerse themselves in the history of Molokai. For admission to the family-owned property, book your reservation in advance. Nearby is the Halawa Valley Beach Park. Hiking the east end is for the adventurous. Hiking boots and rain gear are frequently necessary. The roads to hiking locations, such as the Kamakou Forest Preserve, also often require a Jeep to navigate muddy roads.
In closing, there's one last drive to take that will complete a visit to Molokai. Be sure to "post-a-nut" at the Hoolehua Post Office. Is there a more-unique surprise for those back home than a coconut mailed from Molokai? Coconuts are waiting at the post office. Decorating them there is also optional.
Hawaii Car Rentals by Island
Each island in Hawaii is unique. For travelers who plan to visit for more than a week, island-hopping is a fun way to see multiple islands in one trip. Hawaiian Air provides transportation between islands, and booking with them is recommended. In addition, individual car rentals at each island's airport offer the most effortless transition from airplane to lodging and on to enjoy the sights.
Airport Rental Cars in Hawaii
The majority of our clients choose an airport for their car rental. Airport locations are convenient and often have the widest selection of vehicles. Occasionally, off-airport car rentals located in town or at a resort are better suited, especially if the rental is a spur-of-the-moment choice. Most islands have multiple off-airport locations.