Rent a Discount Car on Maui
VISITING MAUI BY RENTAL CAR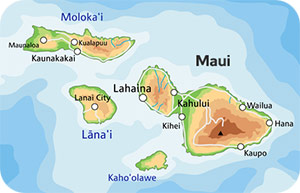 Honestly stated, a rental car is necessary on this island. Maui is not a significant land mass (48 miles long x 36 miles wide); however, its must-see locations showcase themselves across the island. Public transportation is unavailable.
Why Trust Aloha Rents for Your Journey?
Versatile Choices: Rentals designed for each traveler's unique requirements.
Explore Without Boundaries: Uncover secret treasures and design your own Hawaiian route.
Peak Popularity: Our vehicles are swiftly being reserved, reflecting the growing desire for genuine Hawaiian journeys.
The most exciting opportunities for enjoying this island occur at all times of the day, such as sunrises in Haleakala National Park (book reservations at recreation.org) and sunset cruises from Lahaina. For the price of crowded "pick-you-up" tours, a rental car is affordable transportation that gives its occupants the freedom to stop, or leave, when they wish.
Not to be ignored is the romance of Maui. While it's famous for engagements, weddings, honeymoons, anniversaries, and vow renewals, Maui radiates a sweet, intimate sense of connection for all visitors. Rental cars offer a personal space for keeping those connections going while getting from one stunning location to another. Some will find a Jeep to be that ideal, lively rental vehicle. Others may want to drive a sporty car with the top down at the Maui airport. Someone else may need a roomy vehicle for carrying their clubs to one of fourteen outstanding golf courses. Guests coming to an island wedding might need an SUV or a minivan.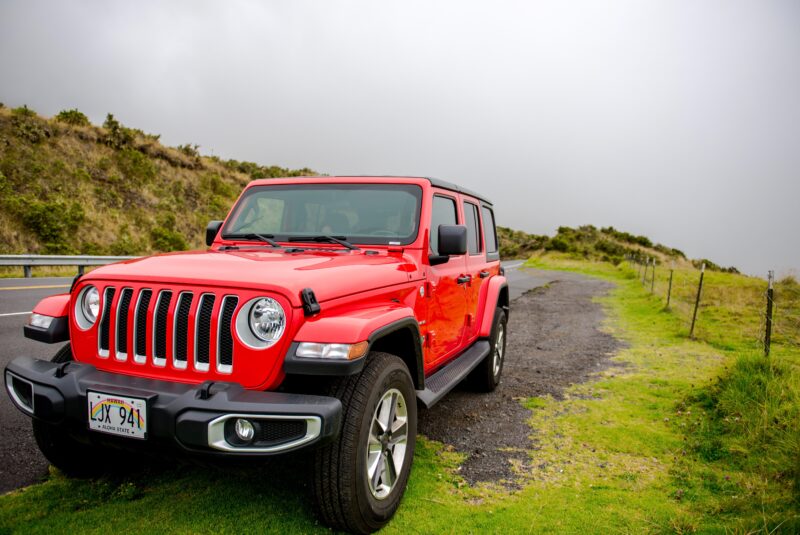 HIGHLIGHTS ON MAUI
Families, groups, and visitors who'll stay several days in lodging with kitchens frequently stop in Kahului to pick up groceries, forgotten sunglasses, or beach gear. Like other well-known shopping options in this town, Costco is a favorite and is close to the airport.
Lahaina is many tourists' vision of old Maui. Because of its legendary history, first-time visitors to the island frequently stay here. A beautiful Banyan tree graces one block of Lahaina's shopping district. Additionally, this main street is excellent for finding beachwear and Hawaiian-casual clothing. Gift stores and art galleries dot the street. On the shore or aboard day cruises, restaurants are a delicious way to enjoy Lahaina. North of Lahaina is the Kaanapali coast. A drive to the end, or just a few miles up the coastline, reveals magnificent Pacific views and spectacular island shorelines.
While not as recognized, Kihei is a great place to stay on Maui. The town's location is convenient for sightseeing on other parts of Maui. But think about spending time in Kehei too. Watching a beautiful sunset from the beach provides a nice wind-down following a busy day. Be sure to enjoy the many good Kihei restaurants. Humpbacks are frequently seen here, off the shore, or from a tour boat. And, for snorkel buffs, a trip to Molokini is a must. Plenty of shopping opportunities are in Kihei and south, at Wailea.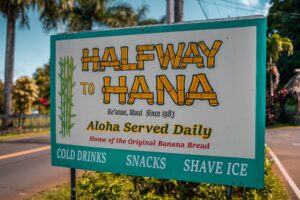 A drive that merits a rental car is the Hana Highway. Think of it as an all-day trip. There is a delicious stop for fresh fish and chips on the corner in funky, colorful Paia if the drive takes less time. Allowing a day for the Hana Highway is recommended because the road is narrow and twisty– 54 bridges connect 600 curvy turns. In addition, the opportunities to see native flowers, waterfalls, and natural attractions in pristine beauty are countless.
Consider enhancing your tropical island vacation on Maui with a rental car. Unless your destination is an all-inclusive resort that you'll never leave until you fly off the island, we hope you'll rent with Aloha Rents. The rates are affordable, and no payment (of any type) is ever requested until you pick up your vehicle.
Hawaii Car Rentals by Island
Each island in Hawaii is unique. For travelers who plan to visit for more than a week, island-hopping is a fun way to see multiple islands in one trip. Hawaiian Air provides transportation between islands, and booking with them is recommended. In addition, individual car rentals at each island's airport offer the most effortless transition from airplane to lodging and on to enjoy the sights.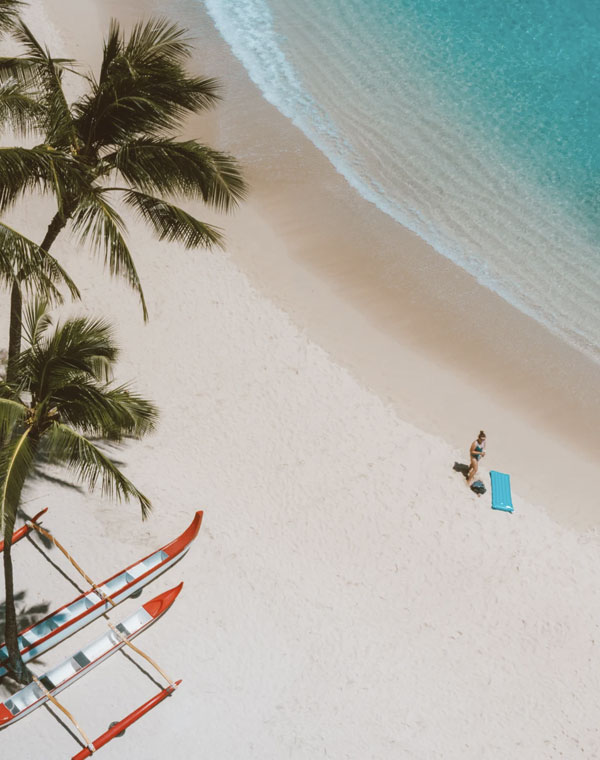 Oahu is an excellent vacation island for everyone, especially for first-time-to-Hawaii visitors. However, returning visitors know that an Oahu rental car is the only way to enjoy all that this diverse island gives travelers. AlohaRents provides the vehicle that fits your choice of exploration. And remember that a budget rental is a great way to get the most from your travel money.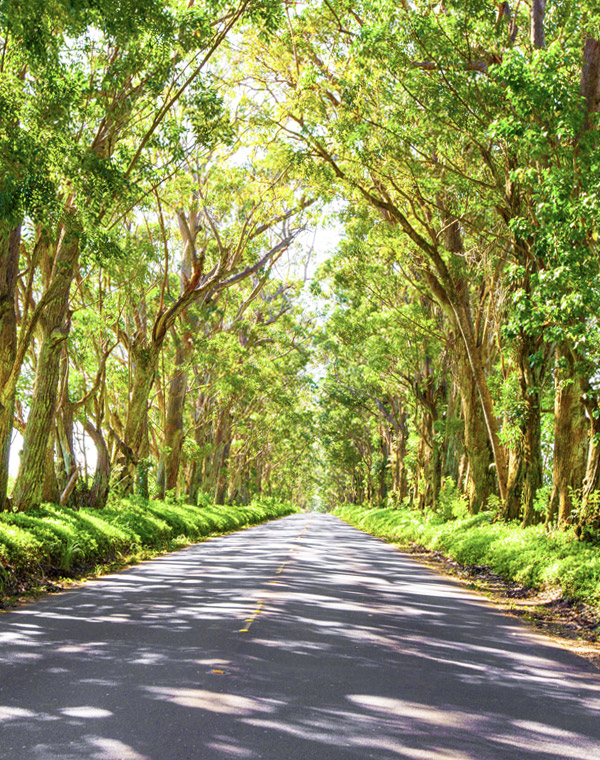 We recommend you rent a car on Kauai. The sightseeing is wonderful. Areas of interest are close to each other and the driving is easy. Kauai is a small island, primarily rural. Kauai is a treasure of exploration. We understand the cost of travel, and rental cars, no matter how low the price, can add to that. Yet, we also believe that being restrained by your transportation can ruin a vacation.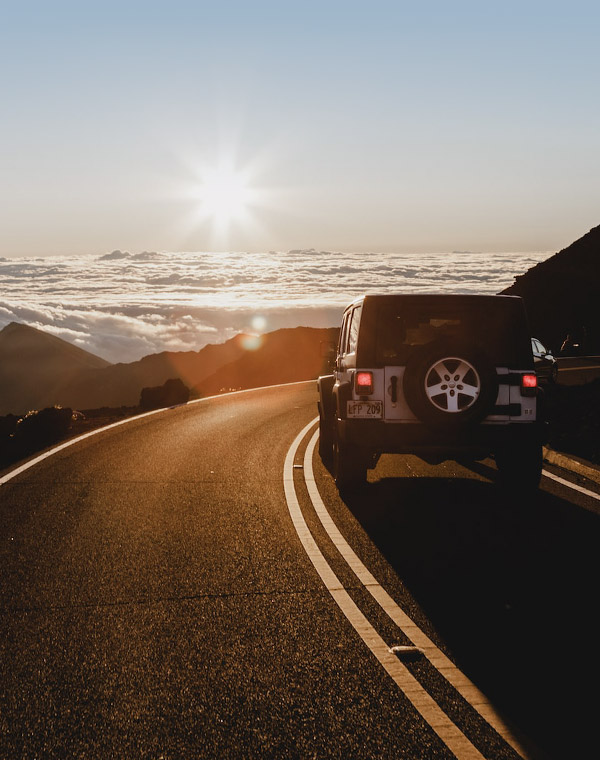 The island of Hawaii, or "the Big Island," is the largest of the Hawaiian Island chain. Distances are farther than on the other islands. Hawaii is a diverse island and worthy of exploration. Fortunately, we offer unlimited mileage for all Big Island car rentals. The Kona side is drier. The Hilo side is rainy. Volcanos sit between the two. Flights to the island arrive in both towns. Therefore, to see this island, a rental car is necessary.
Airport Rental Cars in Hawaii
The majority of our clients choose an airport for their car rental. Airport locations are convenient and often have the widest selection of vehicles. Occasionally, off-airport car rentals located in town or at a resort are better suited, especially if the rental is a spur-of-the-moment choice. Most islands have multiple off-airport locations.