Updated on 11/27/2022
How times have changed! When we began renting cars, our most expensive vehicle was a PT Cruiser (remember those?), costing nearly $125 daily. Today we can offer you a Mustang Convertible at a daily rate of less than half of that amount per day. Our compact and economy vehicle specials are much less than that per day!
When we began renting cars over twenty years ago, we offered only three brand choices through our website. Our website now provides more than twice that many rental car company choices. Our reservation specialists, who answer questions and personally process your reservation changes, have grown from one person to a small group of employees.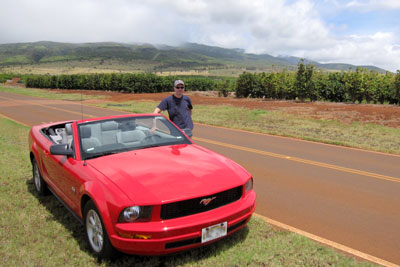 Today, we rent vehicles at the very lowest rates available. Our rental car company partners offer contracted rates typically below the "big box" website prices. In addition, we offer amenities such as free extra drivers and a reduced fee for Young Drivers. Being small, we frequently negotiate with our partners on a rolling basis, while the larger rental companies must put together their rental agreements far in advance.
Over the past two decades, we have made it our responsibility to give you lots of information ( travel tips, FAQ, customer testimonials, Molokai car rental, car rental guide, etc.) on our website. We don't just rent you a car and disappear. When you need to alter your reservation, we can do that. Should you need to familiarize yourself with your destination, we offer information from airport maps to our favorite places to visit in the Hawaiian Islands.
We take pride in the great reviews we've received from our customers through online rating services such as Trip Advisor, Google and Yelp. We are pleased with our large number of repeat customers and word-of-mouth rentals. We even get glowing emails from our customers. Really! Only a delighted customer would take the time to jot a note to a car rental website. We receive rare emails from rental clients that are unhappy. We take all issues seriously and work to resolve them to your satisfaction as quickly as possible. We are thankful to you, our loyal customers.