Is Renting a Vehicle the Best Option for Exploring Hawaii?
When planning a trip to Hawaii, one of the decisions that often arises is whether to rent a car or rely on public transportation. The choice depends on several factors, such as the specific island being visited and planned activities. In this article, we will explore the pros and cons of renting a vehicle in Hawaii and provide insights into the best options for transportation on each island.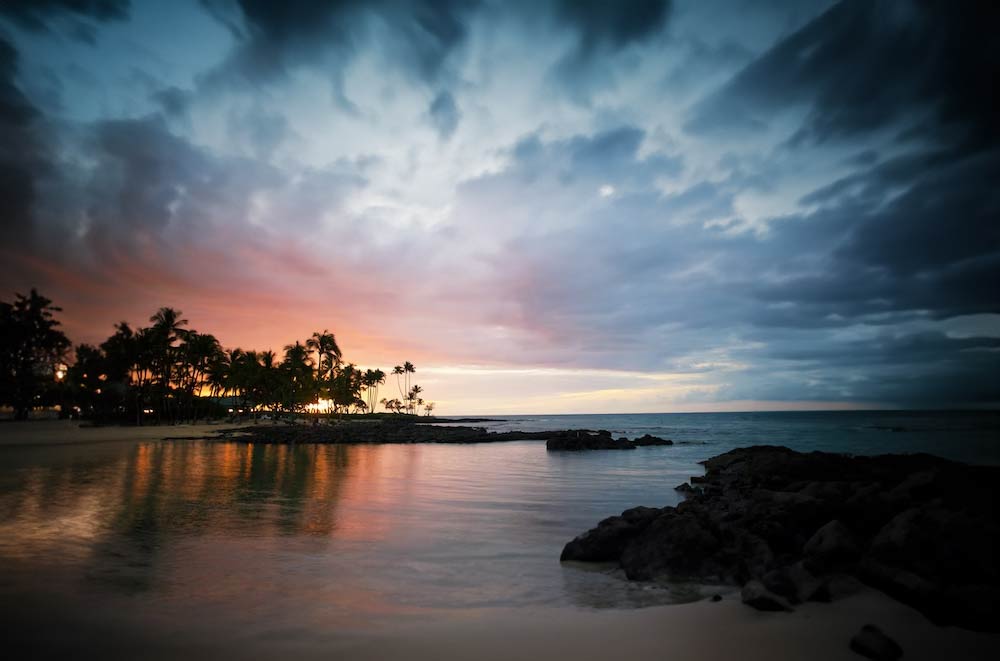 The Benefits of Renting a Car in Hawaii
Renting a car in Hawaii offers several advantages, especially if you want to explore beyond the main tourist areas. Here are some reasons why renting a vehicle can enhance your Hawaiian vacation:
Flexibility and Independence
One major benefit of renting a car is the freedom to explore the islands at your own pace. With a rental car, you can create your own itinerary, make impromptu stops, and venture off the beaten path. Whether you want to chase waterfalls on Maui, drive along the scenic Road to Hana, or explore the volcanic landscapes of the Big Island, having a rental car gives you the flexibility to do so.
Accessibility to Remote Locations
While public transportation options exist on some islands, they may not reach all the hidden gems and remote locations that Hawaii has to offer. Having a rental car allows you to access secluded beaches, hiking trails, and other attractions that may be off the beaten path. It opens up opportunities for adventures and experiences that are not easily accessible by public transportation.
Convenience and Time-Saving
Renting a car in Hawaii is convenient, particularly if you arrive at one of the airports. Most car rental companies operate at the airports, making it easy to pick up your vehicle upon arrival. Having a car from the start of your trip saves you time and eliminates the need to wait for taxis or rely on public transportation to reach your destination. It also means you won't have to carry your luggage on buses or shuttles, providing a hassle-free travel experience.
Island Exploration Made Easy
The islands of Hawaii offer diverse landscapes and attractions, and having a rental car makes it easier to explore these different areas. Whether you're on Oahu, Maui, Kauai, or the Big Island, a rental car allows you to visit multiple attractions in a single day without being limited by bus schedules or tour itineraries. You can maximize your time by visiting the places that interest you the most and spend as much time as you desire at each location.
Renting a Car on Oahu
Oahu, home to the capital city of Honolulu and the famous Waikiki Beach, is a popular destination for tourists. When it comes to exploring Oahu, the decision to rent a car depends on your specific plans and preferences.
Exploring Waikiki and Nearby Attractions
If your stay in Oahu revolves around Waikiki and the surrounding areas, you may not necessarily need a rental car. Many hotels in Waikiki are within walking distance of restaurants, shops, beaches, and popular attractions like the Honolulu Zoo and the Waikiki Aquarium. Public transportation options like TheBus can also take you to various points of interest in and around Waikiki.
Sightseeing Beyond Waikiki
However, renting a car is highly recommended if you wish to explore beyond Waikiki and visit other parts of the island. Oahu is relatively small, and you can drive around the entire island in about two hours without stops. Having a rental car gives you the freedom to visit attractions like the North Shore, Pearl Harbor, and the scenic eastern coastline at your own pace. It also allows you to discover hidden beaches, hiking trails, and local eateries that are not easily accessible by public transportation.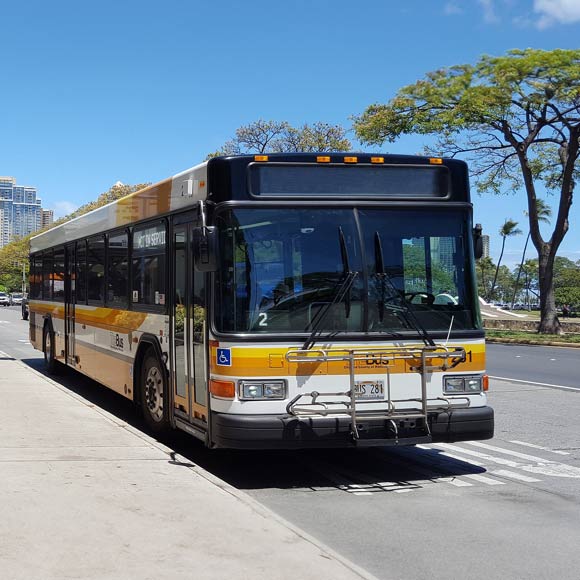 Public Transportation on Oahu: TheBus
Oahu is the only island in Hawaii with a comprehensive bus system called TheBus. If you choose not to rent a car, TheBus can be a convenient and affordable option for getting around the island. Many of Oahu's top visitor attractions, including Chinatown, Iolani Palace, Sea Life Park, and the Polynesian Cultural Center, are accessible by bus. However, it's important to note that TheBus has restrictions on luggage, so it may not be the most suitable option if you're traveling with bags. Avoiding morning and afternoon rush hours is also advisable to increase your chances of finding a seat.
Ticket Information and Fares
When using TheBus, being aware of the ticketing system and fares is essential. Exact change is required when paying fares; discounted rates are available for children, persons with disabilities, and seniors. One-day, seven-day, and monthly HOLO card passes can be purchased for unlimited rides during the specified time period. It's recommended to check the specific route information by calling (808) 848-5555 or visiting TheBus website.
Exploring with the Waikiki Trolley
The Waikiki Trolley is another convenient transportation option for exploring Oahu, especially if you prefer a more structured tour-like experience. The trolley allows you to hop on and off throughout the day, providing flexibility and convenience. The trolley operates on themed routes in Waikiki, downtown Honolulu, and the East Oahu coastline, offering different perspectives of the island.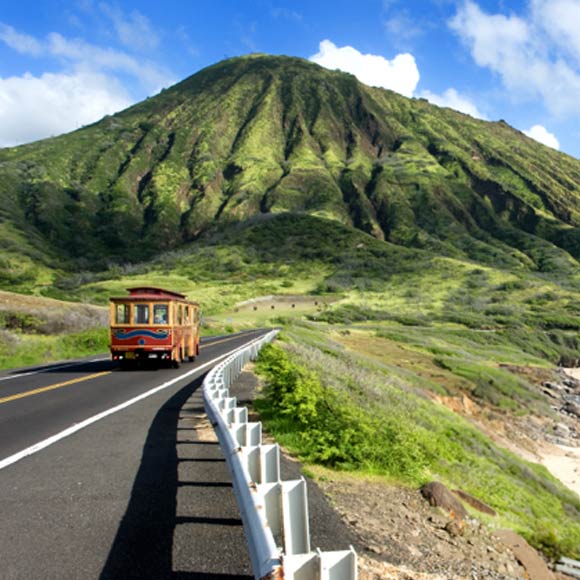 Trolley Routes and Stops
The Waikiki Trolley offers several routes to cater to different interests and attractions:
Red Line: Cultural Honolulu Tour

Blue Line: Panoramic Coastline Tour

Pink Line: Ala Moana Shopping Shuttle

Green Line: Scenic Diamond Head
These routes cover popular stops such as Bishop Museum, Ala Moana Center, Honolulu Museum of Art, Foster Botanical Garden, and Diamond Head Crater. Single-line passes for one day and all-line passes for one, four, or seven days are available, allowing you to enjoy unlimited rides during the specified duration.
The Neighbor Islands: Renting a Car vs. Alternative Transportation
While the decision to rent a car on Oahu depends on your plans, the choice becomes clearer on the neighboring islands of Hawaii, Maui, and Kauai. Unless you plan to stay exclusively at your hotel, renting a car is generally the best option for exploring these islands.
Hawaii Island (The Big Island)
Hawaii Island, often referred to as The Big Island, is the largest of the Hawaiian Islands and offers a diverse range of landscapes and attractions. With its vast size of 10,931 square miles, relying solely on public transportation can be limiting. The Hele-On bus system on Hawaii Island does not provide daily service to the entire island, making a rental car the most practical choice for exploration.
Both Kona and Hilo airports have rental car facilities, allowing you to rent a vehicle upon arrival. Exclusive rates are often available when booking with rental car partners like Aloha Rents. Renting a car on The Big Island gives you the freedom to visit Volcanoes National Park, explore the lush Waipio Valley, and experience the iconic black sand beaches of Punaluu. It also enables you to navigate the island's scenic drives and witness stunning sunsets from different vantage points.
Maui
Maui, known for its beautiful beaches, stunning landscapes, and the iconic Road to Hana, is another island where renting a car is highly recommended. While there are public transportation options available, they may not reach all the attractions and scenic spots on the island. Renting a car on Maui allows you to explore the Road to Hana, visit Haleakala National Park, and discover hidden beaches and waterfalls at your own pace.
It's important to note that some of Maui's roads can be narrow and congested, especially during peak times of the day. However, with a rental car, you can plan your itinerary to avoid heavy traffic and make the most of your time on the island. Some hotels on Maui offer complimentary shuttles, but having a rental car provides greater flexibility and convenience.
Kauai
Kauai, often referred to as the Garden Isle, offers breathtaking natural beauty and a laid-back atmosphere. While The Kauai Bus system provides transportation to major towns, it may not reach all the major attractions on the island. Renting a car on Kauai allows you to explore the island at your own pace and discover its hidden gems.
Lihue Airport is the main airport on Kauai, and rental car facilities are available for convenient pick-up and drop-off. However, it's important to note that Kauai has many two-lane roads and one-lane bridges, which may require careful navigation. Additionally, the Na Pali Coast on the west side of the island is inaccessible by road, further highlighting the importance of having a rental car to explore Kauai fully.
Other Considerations and Tips
When deciding whether to rent a car in Hawaii, there are a few additional factors to consider:
Vacation Packages
It's worth exploring vacation packages that include a room, car, and airfare. These packages often offer cost savings compared to booking each component separately. Additionally, rates for flights, hotels, and rental cars are generally lower during off-peak periods when there's less demand.
Cost Considerations
In addition to the rental car cost, it's important to budget for gas, insurance, and parking fees. Gas prices in Hawaii are generally higher than on the mainland, and certain islands like Molokai and Lanai have even higher prices. To save on fuel costs, consider filling the tank before returning the car. It's also advisable to check your insurance policy to determine if you have adequate coverage for rental cars.
Age Restrictions and Surcharges
Drivers aged 21 to 24 may incur surcharges from major companies when renting a car. The surcharge varies but averages around $25 per day, depending on the location. Aloha Rents in Hawaii offers a discount for these drivers. Some car categories may also be restricted for younger drivers. It's important to check the rental company's policies and terms before making a reservation.
Traffic and Parking
Rush-hour traffic can be heavy on all the islands, so avoiding driving during peak hours is advisable, especially in urban areas. Pay attention to parking signs, as street parking may have restricted hours during peak times. Following parking regulations is essential to avoid parking tickets and towing fees.
Off-Roading and Rental Car Restrictions
If you plan to rent a four-wheel-drive vehicle, it's important to check if the rental company imposes any off-roading restrictions, which is typical. Some areas may be off-limits, and violating these restrictions may result in significant penalties. Familiarize yourself with the rental agreement terms and conditions to ensure a smooth rental experience.
Ridesharing Services
Uber and Lyft operate on all the islands except Molokai. These ridesharing services offer convenience and can take you to various destinations. However, it's important to note that prices for rideshares can be higher than traditional taxis or public transportation, especially for longer distances.
Alternative Transportation Options
If you prefer not to rent a car, alternative transportation options are available on each island. On Oahu, taxis, shuttles, limousines, and TheBus provide transportation to and from the airport. It's advisable to research options and make early reservations, especially for shuttles and limousines. Biki, Honolulu's bikeshare program, offers a fun and environmentally friendly way to explore the city, with numerous self-service bike stations available for rental.
Respect for Hawaiian Culture and Driving Etiquette
When driving in Hawaii, respecting the local culture and adhering to driving etiquette is essential. Remember the three basic Rules of the Road in Hawaii: follow all laws, refrain from using your car horn (as it's considered rude), and drive with aloha. Practicing these guidelines ensures a safe and enjoyable driving experience for yourself and others on the road.
Pronunciation and Spelling of Hawaiian Street Names
Throughout the islands, many street names are in the Hawaiian language. Learning the proper pronunciation and spelling of these names when seeking directions can be helpful. Respect for the local language and culture enhances your overall experience in Hawaii.
In Closing
Renting a car in Hawaii offers numerous benefits, especially if you want to explore beyond the main tourist areas. While public transportation options exist on some islands, they may not reach all the attractions and hidden gems that make Hawaii unique. Renting a car provides flexibility, accessibility, and convenience, allowing you to create your own itinerary and make the most of your time in the islands. Whether you're driving along the scenic roads of Maui, exploring the volcanic landscapes of the Big Island, or discovering the natural beauty of Kauai, having a rental car enhances your Hawaiian vacation and provides unforgettable experiences.
Discover the freedom of exploring Hawaii with Aloha Rents! Our car rental service offers you the flexibility to create your own itinerary and venture off the beaten path. Whether you're chasing waterfalls on Maui, driving along the scenic Road to Hana, or exploring the volcanic landscapes of the Big Island, we've got the perfect vehicle for you. Don't wait, seize the day and book your car rental today with Aloha Rents. Experience the best of Hawaii's breathtaking beauty at your own pace. Let the journey begin! Book Now