All national car rental companies have similar guidelines for driving their rental cars off-road. Fortunately, few places in the Hawaiian Islands are restricted. By being respectful to private roads and properly caring for your rental vehicle, your visit to the Hawaiian Islands is bound to be less stressful and more "aloha".
Below are links to maps of each island with designated off-limits roadways on each, marked in red ink. These restricted areas tend to be rough, deeply rutted roads that lead to "local" hangouts. They are not usually the most scenic areas. So– know that you're not missing much by staying on more vehicle-friendly roads.
If you need to get to an area your rental car company has restricted, we suggest you book with a tour company. Don't compromise the fun of your vacation and put your rental agreement at risk by unnecessarily damaging your vehicle. Please take advantage of our Hawaii Car Rental Guide tips for reserving a vehicle.
On all the Hawaiian Islands you'll come upon roads that pique your interest. The decision to drive them or not is regulated by your car's rental agreement. If you question the road's suitability for your Jeep rental, refer to the map book you receive when you pick up your vehicle.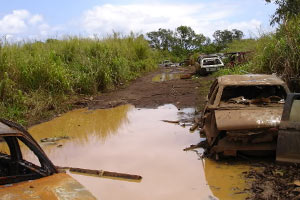 Maui, Kauai, Oahu, Molokai and the Big Island of Hawaii