Address: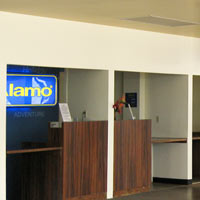 Bldg #2 Airport Loop
Hoolehua, HI 96729
Reservations Desk:
1 (424) 4HAWAII
It's best to book early and return to check rates frequently for Molokai. You can cancel and rebook anytime without a penalty.
Additional information on Molokai is available here. Obtain the lowest cost rental rates for cars on Molokai. Available at the MKK airport in Hoolehua. We offer everything from SUVs to Mini-Vans. Currently our most popular rentals are the 2 and 4 door Jeeps and 4/door compact models. Long-term rentals are also available on Molokai. Visit our partner for Jeep and car rentals at Molokai airport.
Note: At times vehicles (including Jeep rentals) are in short supply at MKK (Molokai Airport).