"Live" Molokai Car Rental Rates

Discount Car Rental at the Molokai Airport (MKK)

Address: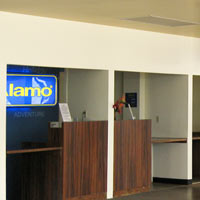 Bldg #2 Airport Loop
Hoolehua, HI 96729
Reservations Desk:
1 (888) 538-6770
Molokai rental car rates and additional information here. Obtain the lowest cost rental rates for cars on Molokai. Available at the MKK airport in Hoolehua. We offer everything from SUVs to Mini-Vans. Currently our most popular rentals are the 2 and 4 door Jeeps and 4/door compact models. Long-term rentals are also available on Molokai. Visit our partner for Jeep and car rentals at Molokai airport.
Compare our recent example rates before reserving. Note: Vehicles are typically in short supply at MKK (Molokai Airport).