Customer Comments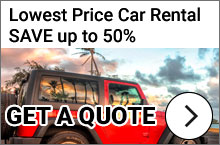 We periodically request feedback concerning our service and commonly hear back from our car rental customers without even making a request. Here are a few of the comments (500+) we have received over the years.
We also periodically publish articles and reviews of activities in the Hawaiian Islands. We appreciate suggestions for topics or comments on our current collection of articles.
Contact us to submit your rental car comments.
Updated: 12:10 PM (HST), February 26th, 2019
---
We rented for 6 days on Maui and stayed at Kihei. Noticed a sound coming from front right of jeep we rented after a few days. I called Hawaii car rentals and they told me to take the jeep back to Avis. They were expecting me at the rental lot and the exchange for a new Jeep went smoothly. BTW- Avis threw in a free tank of gas. Thx
John Parsons
---
Aloha! I work at Aloha Rents Discount Hawaii Car Rental. I'm going to share a top money-saving Hawaii car rental tip in this review (biased, of course.)
We like to use our company to rent a vehicle when traveling to Maui, Hawaii and did so on a recent 8 day family excursion. I had booked a 4 door Jeep rental for the mid-October trip about 4 months ahead of time. The 1st rental I reserved was for $817.26. I came back to AlohaRents.com every 1-2 weeks to check rates for my travel times. If the rate was lower, I would reserve the lower priced Jeep and cancel my previous reservation. The term for this process is Re-Booking. I rebooked 5 times before my trip and obtained a final rate of $459.01. This final discount rate was found 5 weeks before the travel dates in October.
In conclusion, re-booking saved me $358.25 over the span of about 3 months by reserving cheaper Jeeps and canceling earlier reservations made on Aloha Rents Discount Hawaii Car Rental.
Rob H.
---
We have had to rent from Alamo on Nimitz Hwy. 6 times within the last year due to medical reason for our daughter and all the associates have been amazing! 3 associates I would like to mention are Sammy, Nicole and Allison. They have all accommodated are needs and have made us feel like family! Big Mahalo's and keep up spreading the ALOHA!!!! Team Cabingas
Cabingas Ohana
---
Aloha! We picked our car up almost an hour late. Was not a problem. Many thanks to Jeff, who helped us get our van. Super trip. Will rent again.
Thanks,
James Reed
---
Our last drive was the best she really had her Aloha! Our car was great for our three week stay we gave her a work out and drove 2,230 miles while on the Big island of Hawaii! So Mahalo for helping in a wonderful stay!
Amber C
---
Our overnight trip in Kona was very enjoyable and Alamo Rent made it more enjoyable by its friendly office staff and bus driver (Corey) She has the true aloha spirit. Your manager, Jordan, is very kind and makes us feel very special. Congratulations for another good job in making us feel right at home!
Mahalo, kelvin
---
Just wanted you to know your bus driver Tita Cory Kanekoa is a gem- fun, welcoming and helpful! Even if it was a short time on our vacation, it was memorable.
C Raleigh
---
We were in Oahu for 2 weeks and only rented a car for 1 of the weeks and then called and asked about the cost for another week and it was going to be way more than we could pay so we drove the car back to turn in. At our arrival Kathleen waited on us and we told her our story and she said "let me see what I can do" and was able to match the price we had previously paid. Kathleen was very kind, helpful and courteous. We felt pretty blessed. Thank you Kathleen for your kind help you were awesome.
T Crane
---
After a Maui to Honolulu, and back to Maui day. I arrive to my car missing my keys, in the airport parking. I called Hawaiian air, the hotel, lost and found with no results! Christine Sua actually called me and informed me that I left something in the Alamo rent a car, and after passing her test,.informed me she would be more than awesome in the return of my Lexus and house keys, via fed ex. In two words, simply awesome! Mahalo Christen Sua, your my Hero !
M McGuire
---
My wife Charlene and I visit Hawaii recently. What made our trip even extremely special was the assistance from Sammie Kaohu Mel. They were very helpful in getting us out of a Ford car that the transmission seem to be malfunctioning. Their loyal customer service was truly appreciate. Alamo you have all of my future car rental request.
Thank you. Douglas R
---
ALAMO was a marriage saver!!! Arrived after long, long flight. I forgot which company we rented from. Started with a competitor who was going to "work us a deal" ... yeah, for twice as much. Husband walked into Alamo and less than 5 minutes later we rolled out with our car. Later, check engine light turned on, took car back and bam, drove out with exchange ... NO HASSELS!! We'll absolutely rent with Alamo again. "Tita" Kane was our shuttle driver back to airport and we laughed the whole way!! Truly a great car rental experience.
Peggy K
---
Arrived HNL about 10:00pm. Other rental car companies seem to circulate past pivk up area more often than Alamo. Check in seemed good. Agent pointed to car in the dark. Check for damage without any light in parking area seems like a impossible task which could lead to conflict when car is returned.. No one went over the general operation of car which should be done at late hours or all the time to improve customer service. Thanks for opportunity to express my thoughts.
D Issacs
---
Kori at the Kona airport was excellent! Cheery and helpful.
Scott O
---
Aloha Alamo Rental. I am very pleased with your service on my last trip to Kauai. Your representative "Robbie" was very courteous and helpful. I would like this employee to be recognized. Mahalo Nui!!!
Mervyn L
---
Hi Lee and Lynette, I had the best vacation ever camping on the north shore!! It's snowing where I am, and I'm sad to be missing out on the triple crown. Thank you for taking such good care of me after i broke my key. My rental car experience with 3055 Nimitz Alamo was awesome. Hope to make it back next winter. Hang loose Bryan E.
---
Thank you, this reservation with Enterprise Car Rental at Kahalui Airport is almost $ 200.- less than the quote you gave me a week ago... In the meantime, I had recommended you to some friends and their quote for the same time frame came in more than $ 200.- less than the one i had received -so I tried again...
Michael and Joy, Seattle
---
In early February my wife and I visited Maui for two weeks. We rented an Alamo car. The gentleman who helped us was really a professional. From Maui, we flew to Honolulu, where we rented a car from Alamo. We had two reservations. One for April and one for February. We still do not know how the April date got into the mix. The young and knowledgable lady that helped us with this was excellent, her name is Lynette. She was not only efficient, she fixed the problem and saved us some money. kudos to Lynette and to Alamo.
J Donaldson
---
Just wanted you to know that your Alamo drivers Matt Kalili and Corey Kanekoa made are short trips back and forth from the airport delightful and fun. Their happy smiles and warm personalities made us feel welcome. The convertible mustang was fun to. Aloha and Hui Hou.
Pat and Linda
---
Rented car from Alamo April 5-12, 2014. Fast, professional, quality service from the bus transport, counter check in and return process. Will definitely rent from them again! Free extra driver was great bonus.
Eric
---
"Tita" Corey Kanekoa serviced my family and I with a welcoming Aloha. Although we are only from Oahu and we were just visiting family for Christmas, she treated us like everyone else that walked into that bus that day. Not just a "local or Kama'aina", but a friend:)
Charlotte L
---
Kristy, Dominic and Raena gave great service.
Kenneth W
---
We stayed in Oahu from March 3rd to the 8th. We reserved a Yaris at Thrifty, but they gave us a Fusion for the same price. We are going to Kauia in September and will be using your services again. You saved us over $250. Thank you so much.
Pat B
---
We used Alamo rental car on Jan/2014. 4 women with big baggages... When we started to put our bags, we realized that all bags were not fit in the standard car. OMG!!! Immediately, Alamo staff name: Brandon came over to us and helped. but still not fit.. Then, he suggested to change the car to Mini-Van for free. Mini-Van was very spacious and bland new. Because of this Van, we could enjoy our trip twice as much!! Thank you Brandon. He treated us very kind with big smile. When we were going to give some tip, he did not accept the money and said " I am happy to help you guys. Your happy smiles make me happy. Please enjoy the trip!!! " He got true ALOHA !!!
Minako
---
A co-worker recommended you when I mentioned that rental rates over the weekend preceding Christmas 2013. Imagine my surprise when your rates were nearly HALF of what I was able to get with other discounts! Needless to say, I promptly recommended your service to the rest of the families traveling with us. Our experience was seamless, and now that we're considering traveling to Hilo in March I'm coming back! Kudos to your team for providing A-1 BEST service!
Kristi
---
The van driver "Tita" Corey Kanekoa brought the holiday spirit with her Santa Hat she was wearing along with the friendly, and welcoming attitude. I smiled the whole ride van ride. The Chevy was the perfect car for exploring Kona and the return was easy and effortless. Well pleased with the Alamo experience.
Pitts-Hagerman
---
You asked for feedback on my last rental. The fact I've returned to you for more business speaks for itself. Your staff responded with the multiple quotes that I requested very promptly, and the rental car was exactly as expected. Your rates were better than others I found, and you saved me additional money by allowing a non-related friend to be my co-driver at no additional charge. The rental process was absolutely painless and I had no hassles whatsoever, which is just the way a vacation should be.
Mahalo,
Michelle
---
Thank you for the great service, from pick up at the airport by Jim Barrett, to final check out. Everything was so fast and efficient,from beginning to end, and the car better than expected too.
Aloha, Eli
---
Just rented a Chevy CAPTIVA (great car!) in Kona at the Airport. I want to praise Wilson for his professionalism. He is tops! Alamo is lucky to have him. If you ever have a problem ask for Wilson. he will take care of you needs swiftly.
J Hatchard
---
I was very impressed with the outstanding superior service that I received from one of your employees in Kona. He was polite, friendly and just one of those people who make you smile. You a lucky to have Stefan Chapman as an employee. He made it easy an enjoyable experience to return my car.
Thank him and you
---
I was here in Kona Hawaii with my friends and family and had the Alamo rental car, we were stuck in a unusual situation and the manager Kevin Hanger took care of us with a smile and also satisfied us with all our needs.
Thank you Kevin
do much hope your boss knows how valuable you are to his team.
---
My fam & i rented a car when we landed in Lihue, Hi. easy enough. Until we had it a couple of days & realized it wasnt suited to us. We took it back to the alamo rental site & immediately, Shaleah & Kaili were at my window to help us. They were extremely attentive to our needs & had us set up with the perfect suv in almost no time at all! less time & fuss than any other rental ever! They even added 2 more drivers,did the exchange, & we were on our way, very,very happy!
Thank you sooo much Shaleah & Kaili! & Alamo Rentals!
---
Hi Martin and Aloha Rents team,
I just wanted to thank you guys. I have used Aloha Rents for the last 3 visits in Oahu. Every time, I got a pretty good deal and I like your promptness of reservation. My friend introduced me to you and I am glad I found your service.
Yukari and Hawaii.edu
---
Hi Aloha Rents,
Just wanted to say we had a really great time using your company to rent out a car few weeks ago!
It was a very hassle-free transaction when we got to Alamo! I would definitely recommend you guys to our family and friends! I am actually gonna be renting out another car to use for over a month since my dad is coming, and I will surely book it with you again!
Keep up the good work! :)
Katrina D
---
The employees at Alamo Kona Airport were extremely pleasant and accommodating both at check in and return. Especially noteworthy was the customer service provided by Dee whose smile and professionalism made the beginning of the return home from vacation stress free. Thank you Dee, thank you Alamo!
Chuck G
---
We rented a car in Kona during the last week of June 2013. The experience at Alamo was a positive one for us, and the price was very reasonable. Mark was pleasant, even though it was very late Friday evening and he helped us with the process of renting the car, honoring the terms of our amended agreement, even though it was not on the computer. Dee greeted us at the end of our holiday and was extremely cheerful and friendly!
Thank you Alamo!
Heather & Martyn
---
Dee accepted our car return in Kona and made it a real pleasure. She is the embodiment of customer service with a great sense of humor.
Love her! Mahalo, Bob & Lyn
---
Dee in Kailua Kona was amazing....I had a unique situation upon returning my car. She was gracious, kind, and professional ....the true spirit of aloha.
Mahalo, Diane Rima
---
Best place to rent a car on the island. Malu Rivera was amazingly helpful and friendly. We will be back! Aloha.
Deb
---
Rented a car in Honolulu for the weekend of May 3 to May 5, 2013 and was greeted by Jacob Key who gave great customer service as we finalized our rental agreement. Shuffled out to the car lot and met Jim Mones who assisted us with excellent service and then to Erickson with outstanding service. The hospitality they showed us reflected through their personality.
Mahalo Nui Loa
Charlotte L
---
Aloha, we were in Honolulu for medical reasons. Hiroko took care of us. So pleasant That she could have been a big island girl. Very kind to the aunties and then turned and spoke Japanese To the next client . I was inpressed , having studied Japanese. She is a trainer.
C Veihl
---
Brandon did a great job meeting my needs including helping with car selection and topping off the vehicle at my request.
Chris W
---
Our experience with all of the staff at Alamo was great. They provided good and quick information during the rental process (Susu) and the check in process went smoothly (Myranda). I would recommend Alamo to anyone renting car or van in Kona, Hawaii.
Gene T
---
Just wanted to say thanks for an excellent car rental experience. We had our car and were driving out of the airport within twenty minutes of landing. The car drove great and we put over 1,200 miles on it during our stay. Everyone from the shuttle driver to the agents we dealt with were very helpful and friendly. Returning the car went just as smoothly taking about three minutes and then on the shuttle back to the airport. Thank you!
John H
---
Aloha,
Just wanted to say thank you so much for your help with our car rental. We had a rental booked through your company from 01/08- thru 01/10 and we were so pleased. You found us the best price around and we couldn't have asked more from the rental. We had the most amazing trip to Hawaii! I will definitely advertise your company to our friends, I have many who will be traveling to Hawaii soon. And we will definitely use your service in the future again also. Mahalo! :)
Dawn
---
Just a note to say thank you for your excellent service from beginning to end of our reservation process. We had a great experience with Alamo after arriving in Kona on December 29th and will definitely call you first when our vacation plans call for us to return to Hawaii. You are all the BEST!
Sincerely,
Melanie and Jerry Eiesland
Fountain Hills, AZ
---
Thank you so very much! You make that as simple as can be!! And a good price as well! Happy Holidays! Mahalo!! Kay and George Luzik
---
I am so happy to have your reservation site.. Excellent service and affordable prices.. I have given you information to at least 6 friends.. I go to Kona 4 times a year for 3 weeks each time.and will contact you for now on..Last time there in November I paid $800...Other sources are double or triple your prices for the same vehicle.. Thank you.. Ginny Topol
---
I Thank-you for such efficiency and will be recommending you to family and friends. Have a great day and a safe and happy Holiday season! Mahalo!
Doris Grace
---
Thank You!! You guys are amazing!!!!!!
John S.
---
Aloha, Needed a car immediately and was able to book one through this company for an awesome price!!! Will definitely refer this company to others as well as use it in the future! Please keep doing what your doing by providing affordable rates for the locals!!!!!
Ainahau B
---
Your service worked perfectly for us - and saved me at least $120 off what I could see (almost 32% less) than what I could find for myself. The car rental went smoothly
Vikram
---
Rented an economy car but Chaz was nice enough to offer me a upgrade to a Toyota Corolla at no charge. Mahalo
Richard U
---
Hello,
I wanted to tell you that you have been one of the best businesses in Hawaii that I've dealt with. You are always quick to respond and very courteous. Once our trip is completed, I'll be sure to give you more feedback.
Thank you,
LEANNE LITTLE
---
I rented a Dodge Caravan from Alamo at the Kona Airport during a very busy time at the start of Ironman Championship week. Dave assisted me and was very helpful. He provided excellent directions to the condo I was renting and patiently covered everything I needed to know. The car was great and I really appreciated his excellent customer service. Thanks, Dave!
Elizabeth J. S.
---
Thank you so much for assisting me with my recent car rental in Kauai, Hawaii. The car was in good shape and served me well. And of course, you helped save me a significant amount on my rental fees. I look forward to using your service again in the future, and will share your website with friends who visit Hawaii as well.
Sincerely,
Vicki Innis
Edinburg, TX
---
Hi Kathy:
Your assistance has been fantastic. Thank you so much for handling my reservation as a two-step process to save my family valuable dollars over our ten day stay.
We are so excited to see Kauai once again and your help is making the trip that much more special and it hasn't even begun yet!
Best wishes for a wonderful day,
Jack
---
Thanks - and look so forward to you getting us the nicest car for the best price. We've used you guys every time we come to the islands and love you. Your service has been impeccable! Wish you were stateside, too! We had a Volkswagen Bug one year and sure was fun! The Chrysler 300 on the Big Island was great too!
Mahalo,
Carol Edon
---
Aloha,
I would like to cancel this reservation. Our party expanded, and we've reserved a car and minivan through you folks. I apologize for not contacting you sooner.
Thanks for the great service! We found out about you from relatives visiting the Big Island, and we'll spread the word, too. Your HNL rates are excellent! Thanks for your help,
Thanks for your help,
Brian
---
Hello Scott,
Thank you very much for taking time to make the change for us. And, wow! You've got us the unbelievable rate, too! Besides, the taxes and surcharges are for 4 days and not for 5 days (Oct. 2 to Oct. 6)? Is it because of the changed drop off time?
Thank you very much for your dedicated manner of service which I have never experienced anywhere.
Have a great evening.
With much appreciation,
Joseph
---
Just a short note on our recent car rentals.
We hired 2 vehicles through your company and were very happy with the service we received on both occasions.
The first was a Jeep on Maui and the second was a Mustang back in Waikiki.
Both deals were better than what we could get going direct and both were ready and waiting when we arrived for pick up.
The smoothness of the transactions made our experiences so much more enjoyable.
Thanks again
Cheers
Ray Dixon
---
Let's go with Enterprise and just one driver (me). Go ahead and cancel Alamo.
Thanks! You guys are great! My husband and I own a vacation rental condo in Maalaea, and we always recommend clients use your service.
Michele
---
I need a 4 wheel drive, I am a 54 old truck driver with a perfect dl record. Want to go to Mauna kea. I'm an amatuer astronomer. thanks
R Nelson
---
You guys rock!!! I just got an email confirmation and the rate for Christmas week including taxes is 1/3 of the rate that everyone else was quoting, which just saved me $600. I don't know how you do it.... I've rented through you a couple of times already and have referred several friends/coworkers to your site. Keep up the great work!!!
Susan B.
---
We were told we'd need a car on Kauai if we wanted to explore the island. That led me to searching google for the cheapest rates for a dependable car. I read about aloha rents on a forum called flyer talk. I sent in my travel details and received an email from enterprise a short time later. The price was excellent and I could not find any better. The rental worked out great and we were able to discover the islands wonders. We loved Waimea canyon.
Thank you Aloha Rents! Phil B
---
Already pleased and that's just the reservation process. No credit card required and I got a legitimate reservation with AVIS and saved over a hundred dollars from the direct AVIS site. Aloha Rents is incredible.
S. Apostolina
---
We have a condo in Kihei and the last visit there your company was recommended. It was great - exactly what we wanted at a good price. We now recommend your company to our family and friends that use the condo and will use it ourselves in the future.
Thanks. Vicky (Calgary, Alberta)
---
I have rented cars through you on Kauai and the big island. Both rentals went smootly at good rates. Now I am getting ready to rent again on Kauai in June and have filled out your form today.
Alvin G
---
Aloha Carol,
Thank you so much for your efforts. I actually managed to find one pretty good rental at 2:00 a.m. in the morning and in my panic to get a decent rate during the Christmas season, booked it, so you can cancel this reservation.
However, I would like to commend you and your company for doing a terrific job. I booked our car rental through your company for our visit to Kauai at peak season over Christmas in 2009 and you saved us over $600 on our rental. Your staff are wonderful, so helpful and friendly, and respond right away to any questions. I referred my sister to you as well to book her car rental for her Hawaii vacation.
Keep up the good work. It is always nice to receive an email from an actual person at the other end. I will definitely contact you again for my next car rental. Feel free to post my comments if you like on your website.
Sincerely,
Deborah Tooke
Langley, BC
---
Just wanted to thank you for your service, you were referred by a friend and going through you I saved a substantial amount. We visit the islands every year and you now have our patronage as well as continued referrals.
Thanks again
P Medina

---
I took a last minute trip to Hawaii in April and realized I had not made arrangments for a rental car when I was half way there and sitting in the LasVegas airport. I found Aloha Rents online and they found me a rate about 60% lower than the quotes I got directly from the rental car companies. Both of my rentals that trip were exactly what I had requested and completely arranged for me. I can't say enough about how easy you made my trip! Thank you.
Erika S

---
this rental is for my boss's son. you guys have done an awesome job with all the rentals (total of 16) i have requested for this hawaii trip. thank you so much!
C McBride of RothStaffing.com

---
Rented a car from Alamo Jan.31-Feb.7 in Kona. Excellent service, great people to deal with. A very nice and clean auto. Thank you. Rented a car in Kauia from Feb.7-14 also great people and service. Looking forward to our next trip.Will definitely rent a car with you people the next time we visit your beautiful islands again. Thanks for being part of our great and awesome experience. Mahola. Till next time.We will be back.
f strukoff

---
1st Email to AlohaRents.com:
You arranged a Jeep reservation for me with Thrifty. My confirmation # is: FK47XB
I am booked with a tour group and our flights have changed. We were to arrive at OGG at 4:30pm on Friday, February 12 (tomorrow). We are now scheduled to arrive from Honolulu on Sunday, February 12 at 1:30pm. I need an answer ASAP as we are flying out of Indianapolis, IN tomorrow at 5:30am.
Any help or suggestions for a car rental would be much appreciated.
2nd Email to AlohaRents.com:
You have already made another reservation for me with Alamo.
You guys ROCK!!!!!!
Thank you so much.
Barb Albert

---
I appreciate the good rate and helpful service! I hope everything goes so smoothly when we arrive in Hawaii!
T & C McClare

---
I spent hours on the phone and visited many other car rental sites online priot to visiting your site. I have learned a lession - visit your site first!! The deal that I got from you was fantastic and the service was even better. I shall be certain to rent from you again and will also pass your site along to others. Oahu here we come!!Thank you AlohaRents!!
Jim
Moose Jaw, SK.
Canada
---
Thank you! Mahalo! Quyana (in our Yup'ik language)! You've made our honeymoon that much better.
Thomas
---
Mahalo for arranging and re-arranging my latest rentals and getting great rates.
Elizabeth T.
---
Aloha ~ Wow...I'm impressed. You made the car rental process so easy and at a great rate. I can't thank you enough for your service. I will definitely be passing a recommendation for your company to friends and family.
Mahalo ~ Heather
---
I cannot believe how great and detailed your service is in booking a one day car rental.
I certainly will recommend your company to anyone going to Hawaii.
Thank you
Thea K
---
Planned vacation dates coming soon. I requested a rate check for my reservation. You quikly reserved the same car at an even better rate than I received about three months ago. Can't complain about that! Thanks again.
V.F.
---
Mahalo nui loa, Aloha Rents! We rented during a high demand season, when some of the usual companies did not have rentals or only high-priced cars. We saved a lot of money and got a reasonably priced car with your service - reliably, and economically.
Jose K.
---
You guys are awesome!!! I just started using this website in April and was surprised how much money I saved.
Polly Varize
---
Wow. The best car service ever. worth every penny. thank you folks so much.
Manny P
---
Hi:
This will be our 6th time using Aloha Rents. Your rental car prices are so much lower than booking with the rental car company directly and it's easy to change your reservation once they are made. I've always had great service and I recommend it to all of my friends who travel to Hawaii.
Jenny G.
---
We had a good experience renting our car from Aloha Rents. It was quick and easy, and the people I spoke with were very helpful. I am planning on using your company again in a few months when my wife and I return in June for another trip we booked nearly a year ago. Mahalo!
Vince L
---
I am so grateful we discovered you when we did. We were already 1 day into a 2 week rental agreement on Kaui. The rental rate you were able to get saved my family over $1,000! Needless to say, I promptly returned our car and rented the one you reserved for us. We also got a much nicer car than what we originally had. I couldn't have asked for a better deal!
Thank you so much for your prompt and money saving service.
Sincerely, Derek
---
Cancellation due to friend making a car available while we are on island. I was pleased with your rates and ease of reservation.
Williams
---
You provide a great service and I'm highly impressed. I filled out one quick form and I had a car rental that I'm very happy with. You're rates are outstanding! Thanks so much!
D Francken
---
Wow, you guys just made me the happiest person!! I stumbled upon your site and thought I'd check to see your rates. At that point I was really upset as the prices I'd been seeing were so expensive. In less than an hour I had a car booked at less than 50% of what I was seeing everywhere else! At first I couldn't believe it, but I checked it out and there it was!! Thank you so much!!
Christin Davis
---
Thanks for the super service and rental on the Big Island! We saved considerable money, were able to get what we wanted even when the majors said they were out of cars, and when we had personal contact the office was extremely helpful. Mahalo nui loa!
J Kirchner
---
mahalo for the immediate service and fantastic prices in our rental car needs on Kauai. We were pleasantly surprised we were able to afford a rental car. This made a huge difference in what and where we were able to go on Kauai. The first day and destination were well worth it, thank you, we will utilize your service again next week with other island bookings. As a travel agent just getting into the business, I have a wonderful tool to steer my clients to in the future, Mahalo, diana
Diana H
---
I have used this website three times. I am very impressed! It is very easy and I have been pleased with the speed and selection every time. I will use this site every time I need a rental car in the islands.
Jennifer M
---
Your service was awesome! I got the lowest rate and the best help. Thank you i really do appreciate it.
Sheldon
---
I used this service for the first time in Feb. 2010. Previously I used Costco travel.
Not only did they beat the deals, but the car was great. In fact, they were out of my car requests, and moved me into the next step up for free. I will be using Aloha Rents again...soon in November.
Mahalo
---
Robert,
I must say that I have not received such excellent customer care for quite a long time. Beginning with a genuine request for Iformation useful in improving your service I felt informed of your steps to find out why your rate was initially higher. Your end result was, however; unexpected but highly appreciated. I cannot thank you enough for proving that service with the customer first still exists. Because of your attention to this matter I now have saved enough to be able to book rides on the glider planes on the north shore. You can be sure that you have gained a grateful customer who will suggest your company to anyone who may benefit from your services.
I completely and happily satisfied with my reservation.
Sincerely,
Paul
---
This website was for real! I feared this was a scam given the rental rates on the cars compared to going directly thru a big name website. Your prices were half AND you charged me EXACTLY what you quoted when I left the lot with the car. I will advise all my friends to use this service.
James L.
---
We were very happy to discover your website last winter for our Kauai vacation. You saved us approximately 50% on the best rate I could find elsewhere, on a new car with a national chain. I'll be recommending you to my friends, and also have bookmarked your site for future use.
Thank you so much!
Susan H.
---
You guys are great!! Thank You for the quick response!! We are visiting family and will be on Maui for 14 days and wanted to ease the families stress by at least having our own transportation!!
Mahalo!
The Marins!!
---
This was our 3rd time using your service. I believe that we saved about $150 for a weekly 4 door SUV rental. Michael was very helpful when we needed to alter our schedule by a couple of days. We'll be back next Spring!
Michelle Reid
San Francisco, CA
---
What a great experience dealing with Aloha Rents for our vacation on Kaua'i. We saved a considerable amount of money and had no problems. Thank you for handling this important part of our vacation efficiently and professionally. We will share your company with all of our friends and family. Mahalo! Rita
---
I'm a local from the island of Maui. This is mo betta than any other rate I could find. Hands down da bes!!! Much Mahaloz for the KamaAina Rate for locals and tourists alike. Aloha!
Steve
---
My wife and I reserved a Jeep Wrangler through Aloha Rents Hawaii Car Rental for March, 2010. All went well, although we did have to wait for 10-15 minutes to get our Jeep from Thrifty in Lihue at the airport. The rental functioned without problems. The Jeep could have bee cleaner inside, but we are quite picky. We appreciated the unbeatable rate!
Thanks-
Kelly D
---
I heard about your car hire service from a neighbor who recently visitied the Island of Oahu. As she noted, the companies are national brands, like Avis, Budget, Thrifty, Dollar Etc. I took the time to compare Aloha Rents rates to websites such as Expedia and Travelocity. There was no comparison. Needless to say we received a great vehicle at an excellent price. Aloha, Alec T.
---
I contacted Aloha Rents on a whim to just see what sort of crazy rate they would quote me on a rental car for August in Kauai. I was very surprised when they came in a fair amount lower than the best rates I've been seeing on hotwire and the priceline bid report forums.
Our 6-day economy size rental was $160 for six days in August with no cancellation or change fees. The reservation is with Alamo. The second best rates that I found on other sites were slightly over $200.
RWK
FlyerTalk Post
---
Are you guys serious!!! I don't know how you did it, I'm a local on O'ahu, tried EVERYTHING. Hotwire bid, then Priceline, calling direct, all either didn't have a car at all or quoted me 30% higher than what you folks obtained for us. So unbelievable I had to call Alamo to confirm that it was not a hoax (sorry, first time user!) Anyway, thanks so much, MAHALO!!!
Derek
Sales Team Leader
Marriott Ko Olina
---
Our whole family thanks you. We were having a hard time finding transportation for Molokai. I'm not sure how your company aquired an affordable minivan for us at the airport. We stayed at the Wavecrest Resort and enjoyed amazing views of Lanai and Maui from our oceanfront unit. We'll certainly contact you next time we visit Molokai.
The Aki Family
---
We chose "Lowest Rate" from Aloha Rents and we were very happy. The best deal at the time was an AvisRent-A-Car. Everything went smoothly and my wife and I were very happy. They had a nice selection of cars and the process went smoothly. The vehicle was in excellent working order.
Regards
Marq M.
---
Avis is the best car compay that I have ever used. I recently had a negative experience with their competitor, Hertz, that left me looking for a new rental car agency. I was so plesantly suprised when I found Aloha Rents!The quote I received was hard to believe. The Avis employees are professional, courtious, and even pleasant! The vehicle was super new and very clean.
Chemaine~
---
Just wanted to thank you guys for saving me nearly 50% over the cheapest internet rate I came across before finding your site....Any hotel sites like this out in Hawaii???
Thanks,
Michael
---
Thank you!
I'm not sure what we would have done without you. All of the large companies were fully booked. Somehow, you were able to get a car from Alamo, when we were not able to on their website. On top of that you offered a unbeatable rate.
Much Aloha,
Bobbie and Celia Jennings
---
Aloha Ron-
The rental was exactly what we needed. The mini-van held all of us and our luggage comfortably. We also posted our review at TripAdvisor for others to see. Have a great New Year.
Bill and Family
---
Kudos. We had a good experience in Waikiki. Picked-up our car at the airport in HNL. The Wiki Wiki Shuttle was quick and easy. The economy car we rented was only 23.40 per day. The favorite thing we did while we were there was snorkeling at Hanuama Bay. See you next time.
C.L.
---
We had to wait a few weeks for the Fall rates to be published before we were able to rent a car. But, when we did, we were happily surprised. Easy to communicate with and Ron answered our questions in short order. This ended up being better than renting directly from one of the major rental companies. Thanks!
Philippe
---
This is an FYI for those traveling in the Islands via cruise ship. We had so many different excursions to choose from. Instead of taking part we decided to rent a car at each individual port of call. We chose Thrifty and were happy with the vehicles and level of service. If you decide to opt out of the planned excursions be prepared for a short wait to get the shuttle at both ends of the journey. The other cruise passengers we spoke with had the same issues with the other agencies. Please note, the parking at Kahului Pier on the island of Maui was insufficient. We eventually decided to park our car in a nearby industrial area. Luckily we never had any problems.
Jerry L.
---
I picked up my car rental this morning. Renting an economical car is a nice option, as both of our vehicles are gas guzzlers. We planned on doing quite a bit of driving. It was perfect as I was curious if I would notice the difference at the pump. I DID. Which is amazing considering that gas is not cheap in Hawaii (Honolulu specifically). We'll get another economy vehicle next time we travel.
Chris
---
I just wanted to express my appreciation for a excellent end-to-end service from Aloha Rents. The vehicle from Alamo was clean, ran extremely well, and was exactly what you advertised. The service representative in Maui was very helpful too.
Anya~
---
Hello Robert,
So glad we picked-up a car at the airport. Even though family could have given us a ride. The only rental car place in Kailua-town is not easy to find. We were also able to take a horse-drawn carriage ride through Kailua-Kona while we were there. We would definitely rent from you again.
Sameer D.
---
Wow!!! That's all that I can think of to describe our experience with your company. My brother-in-law had first suggest I check your rates before booking with on of the large rental car compaines directly. I did! It was the same car, just for about 15.00 dollars per day less. See you next time.
Aloha, Lynn
---
Happy to tell you we had a fabulous time in Waikiki. The standard SUV was an excellent choice for our party of five. Passengers and bags fit in perfectly. The family is already planning our next trip (Summer 2008). I am thinking we will probably get the same vehicle. We appreciated all of your help and suggestions!
Cheers,
Walter K
---
We arrived by cruise ship in early Feb. The shore excursions offered by the cruise-line were overpriced. We met another couple on the ship and all decided to rent a car in Maui. Funny, we saw many of the same sights offered on one of the tours. It saved us about 65% by doing it ourselves. After a few days, we discovered that we could miss the meeting point on the ship and just go to shore and look for the numbered sign for the intended tour number. This would get us ahead of the crowds, this is all due to your advice before we left on our trip.
Thanks so much!
James D.
---
Aloha Rents! We just found your website on Trip Advisor while researching a trip to Kona. Check a few other places for cheaper rates but did not find anything better. We have two legs to our trip and were excited to find out you could help with our "Island Hopping" travels in Hawaii on the Big Island. In the end we ended up saving over $200- for a 7-day rental. Can't wait to arrive on the Big Island!
Ben :)
---
Hi- Just wanted you to know that we had an amazing trip from start to finish. Somehow we were given first class seats on the flight to and from the mainland. The two of us took it in stride. We also appreciated the sigtseeing tips you gave us for Maui. We enjoyed some nice country while on the Island due to your ideas. We're glad we made the decision to rent our car through you.
Sincerely Terry
---
What a deal!
The rental car was perfect. Four travelers with luggage which seemed to grow as we traveled. The car which we rented, a Chrysler Pacifica (a sporty minivan/station wagon) was just the car for our group. The gentleman at the Thrifty car rental counter explained that the rate I recieved through you was just a fraction of the typical rate for the holiday period we rented the vehicle for. Needless to say, we'll be in touch next Winter. THX Steve G
---
We loved our trip,
We got an upgrade for 10- per day. So, we ended-up getting a Sebring Convertible for less than 40- per day. The Sebring also get better mileage than many of the other rentals, such as a Jeep etc. We enjoyed the large trunk also. Just remember the trunk is much smaller if you have the top down. A small tip. Although they can be corny, you should attend a Laua while you are in the Hawaiian islands.
LH
---
Hi-
Our preference was a full-size 4 door sedan. Your quote explained that there was an even better deal for the next step-up. In fact, the quote was less than the full-size vehicle. We were happy to get a red car as requested. Our trip to Kahului, Maui was very enjoyable.
We'll be in touch next Fall!
Thanks-
Rob
---
Aloha
We needed a last minute reservations for an unexpected trip to the Kona Coast. The process went smoothly and we are very happy with our deal. Surprise! It was a lower rate than posted on your website.
Thanks again.
Mark & Kara
---
Hi Robert-
I'm a very careful consumer. I always shop around when I plan our trips so we can get the most out of our vacation dollars. This was our third trip to Kaui, Hawaii, and the two previous times we reserved our rental car through our travel agent back home, who found some low rates for us, but the cars we rented were pretty small. I've always thought it would be fun to drive around the island in a Jeep, and when I found Aloharents.com I was amazed to find a rate for a Jeep that was even lower than my the rate quoted by my travel agent.
Thanks
The Alisons
---
Robert,
Our quick trip to Honolulu was terrific. Thanks for getting us a red jeep as originally requested. The weather was perfect and we enjoyed having the top down for our entire stay. We'll use your service next time we visit the Hawaiian Islands.
Mahalo Nui Loa
Steven H.
---
Close Call,
While on holiday in Maui I ran into a problem. I had misplaced my reservation and could not recall which company I had reserved with. The rates for walk-up were out of this world. I quickly pulled my laptop out, got online, and reserved a car through AlohaRents. I ended up saving over $80.00 for the few quick minutes it took to reserve my car.
RC in San Diego
---
Hi-
Maui was wonderful. Our family rented a minivan and it was more than enough room for the 5 of us. Although, we did more relaxing than driving. Will pass your information along.

Erin ;)
---
Hello-
We had a great visit on the Kona coast and enjoyed our Wrangler rental. The jeep ended up being a good choice and we popped the top down for 3 days of our visit. We have already recommended your business to my wife's sister and her partner, who are headed to the islands (Oahu) this Winter. Take care- Mike
---
Excellent Deal
I appreciated your help in arranging a virtual fleet of cars for Maui. I did not wwant to be the one out of our group to take care of this task. Your team made the entire process quick and affordable. I have already told others at our university about our service.
Shawn
---
Aloha,
We just returned from our recent vacation to Maui, HI. The SUV we rented was perfect for our family of four. My husband enjoyed driving us on the road to Hana and I appreciated being able to sit up high and see out the window. This is our third time renting from your company. We also appreciated the fact that I could drive the car at no extra charge. Although I never did get behind the wheel, the option was there. We plan on going to Kauai (Poipu Beach area) next year and intend on renting a Cherokee again.
Thanks,
Judith M
---
Aloha Rents,
Overall, our Hawaii car rental experience was a positive one. We really enjoyed having a convertible, a Chrysler Sebring, to tour the island with. Driving around with the top down and the warm ocean breezes in my hair as my husband and I experienced the sights and sounds of Maui all around us was so fun! Truly a memorable experience.
Mahalo again,
Janice and Michael
---
Dear Robert
I can definitely recommend reserving your next rental through Aloharents.com. I rented a little red Jeep on Oahu that I drove around in for a week. I had a blast! I never did put the top up, I was sure not to leave any of my things in the Jeep when I was away from it.
Best Regards,
Bill
---
Aloha Rob-
Well, aside from getting us lost a couple of times, our Dodge Caravan was the perfect vehicle for hauling our family all over the Big Island of Hawaii. We got a really helpful clerk when we picked up the van at the Kona airport, although there wasn't really a lot for him to do since most of our information was already in their computer system from when we made our reservation online. We'll certainly rent from you guys again, although next time I'm going to buy a map of the island!
Mahalo,
Colin and Family!
---
Hi! I just returned from a week in Kauai, and I used your service for my car rental. . . and every thing worked out just fine. I did lots of comparisons prior to booking, and they offered the best deal. My reservation was with Thrifty, and any emails, etc., were handled promptly. I would definitely use them again.
If you really want to enjoy sightseeing in Kauai, be sure you rent something that you can put the top down on. I know that's not really feasible if you have more than 4 people, but if you can manage it, you've got to do it! It's just that the weather over there is so nice, driving a convertible only adds to your enjoyment!
Thank you for everything-
Chris & Kit
---
Please send us your comments after returning from your travels in the Hawaiian Islands. Let us know when you took your trip and some of the experiences you had with your Hawaii rental car.
You can also join us on Facebook.
For more information you can email us with your thoughts.