Oh Those Enticing Special Offers…
Kama'aina rates
AAA rates
AARP rates
Military rates
Toddler rates
Mate rates
Student rates
Senior rates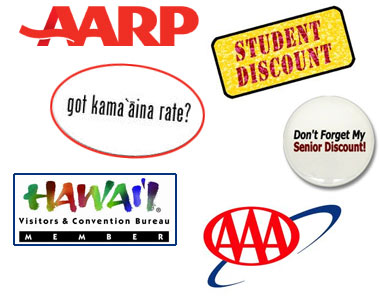 Coupons, promotions, memberships, clubs, discounts, and deals with hidden fees etc.
Frequently, our customers ask us to provide special car rental rates. While we respect island residents who request popular Kama'aina (Hawaiian word for native or old-timer) rates and veterans, students, seniors, and active military and other travelers who request discounts for having expensive auto club memberships.
For this reason, we negotiate with several nationally-known car companies to offer you, all of you, the best rates you'll find on the Internet. We invite you to shop around. We think you'll be back, with a smile on your face. Our vehicle rental rates are affordable cheap! And, while you may see "Kama'aina" or "Senior Rates" on our competitors' websites, look over your quote from them very carefully. Omissions are often telling as to whether your quote is accurate and reliable.
Hours you'll be arriving and departing
Reason: Rental vehicles are rented in 24-hour increments. If you book a car for 5 days and 5 hours, you will be billed for 6 days. You should learn that when you make your reservation, not when you return your vehicle at the end of your vacation.
All taxes, local charges, and airport fees
Reason: Tourist areas commonly see charges such as state and local sales taxes, airport surcharges, and licensing fees as ways to bring in revenue without taxing the locals. Your reservation should include all fees. These charges add significantly to the cost of a rental car.
You don't need to provide personal information when you request a reservation from us. We need your travel dates and an email where we can contact you. Our partner car companies like to know the brand of credit card you intend to use for your rental. That is all. Your name simply provides us with a person to whom we can direct the reservation.
No address necessary
Reason: We can't sell what we don't have–not that we'd ever be interested in selling personal information. Hate that!
No phone call is necessary
Reason: Our reservation specialist has no intention of contacting you for any reason other than to return a personally selected reservation to you via your email address. If for some reason we are unable to reach you via email, we will try to call you at the phone number you submitted.
No Credit Card Numbers are necessary
Reason: They don't benefit us in any way. The car company that our reservation specialist selects for you will take care of billing when you return your rental to them.
As we suggest above, check out our rates and shop the other websites. Return here to AlohaRents.com when you are confident you'll get your lowest rental car rate with us. And, know too, that we don't discriminate. You'll receive the same low rate as everyone else. Your reservation from us, including all your individual requirements and those unfortunate, necessary local fees, will be the lowest discounted rate you'll find on the Internet.
Learn more about our rental cars today: Check Current Rates